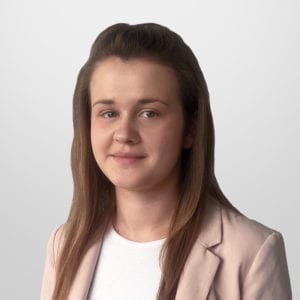 Welcome to the PCMI team, Izabela Borek! Izabela will be working on the Poland team as a QA Analyst. She is looking forward to gaining experience in a QA role where she can her programming and analytical skills, as well as, working in a company that offers her many opportunities for growth and development.
Izabela is currently attending Krakow University where she is studying Applied Computer Science while pursuing a degree in Engineering. She began her career as a QA Analyst Intern with PCMI's Poland team, and she is excited to broaden her mind and learn to become the best QA Analyst that she can. Izabela cannot wait to contribute her hard work and dedication to the team's projects. She is hoping to get to know and understand all of the business logics of PCMI's system and truly contribute to the success of the company.
In her spare time, Izabela loves to spend time with her friends. She also enjoys living an active lifestyle, in which she goes cycling, to the gym, to the theater, and to the cinema. Izabela is glad to live in Krakow, but she loves visiting her hometown of Nowy Sacz because it is in the countryside, it is quiet and peaceful, and it has beautiful scenery such as mountains, lakes.