A few weeks ago, our Director of Client Engagements – Manoj Patel, traveled to our Poland office to personally meet and continue to build a strong partnership with PCMI's European team. After a long and adventurous trip, Manoj finally arrived in one of Europe's most beautiful and legendary cities – Krakow. While spending the week in our Krakow office, Manoj met with PCMI team leaders to discuss improved future cooperation plans and devoted most of his time to working with the Consumer Team that he oversees.
Work Hard
The team's week with Manoj was very productive focusing on discussions, brainstorming meetings, and presentations. Some of the topics covered throughout the week were:
retrospective of 2018
resources and capacity review
performance and user experience of our PCRS system (contract and claims screens)
Manoj thoroughly enjoyed his time working with the team and was thankful he got to understand them better with face-to-face interaction. He was also able to witness test automation strategies, see how deployments are launched, and learn about future steps for improving how we do Agile. Manoj feels that both him and the team benefitted greatly from the opportunity to spend this time together.
"As a team we grew stronger and I felt that we learned more about how to work with one another. The quality of work is excellent! The office has standards and processes in place that will make PCMI a world class organization." – Manoj Patel
Play Hard
Manoj's visit was full of hard work, but since this was his first trip to Poland, he also took the time to explore some of the rich Polish culture while in Krakow. He stayed at Hotel Santi, a historic building from the middle ages with original medieval features perfectly preserved and rooms kept in a rustic-classical style. His hotel was located in the heart of Old Town and in walking distance from historical sites often older than the U.S. itself, such as Wawel Royal Castle.
During one of the evenings, Manoj held a certification ceremony at Pod Wawelem, a restaurant near the Main Square to show appreciation for the team's dedication and hard work. Everyone enjoyed a traditional Polish dinner together while being entertained by live folk music. The evening was concluded with an unforgettable karaoke experience. This casual setting gave Manoj and our Poland team a chance to get to know one another better.
"I gained a strong appreciation to Polish culture and traditions which makes me feel proud that we have an office in Krakow. I want to thank the office for hosting me and am very appreciative for the time with them." – Manoj Patel
Rubber Duck Debugging
Manoj put a lot of thought into making sure that our Poland team felt how much their dedicated effort is appreciated. Besides formal certification ceremony, he decided to surprise everyone with a less orthodox, yet a very meaningful gift. He handed out yellow rubber ducks! Don't worry – most of us scratched our heads as well when he presented this idea to us, but when he explained the meaning behind his choice – it all made perfect sense!
The ducks represent "rubber duck debugging," which is a popular software development method from the book "The Pragmatic Programmer." The idea behind it is that a programmer is to carry around the duck (or other inanimate object) and debug their code by explaining it line-by-line to the duck, which is meant to help them evaluate their work from different perspectives and result in a deeper understanding of the most effective solutions without the need to interrupt their colleagues prematurely. Having the ducks on their desks and around the office will now be a constant reminder of Manoj's visit and continuing quality solutions with style for the team!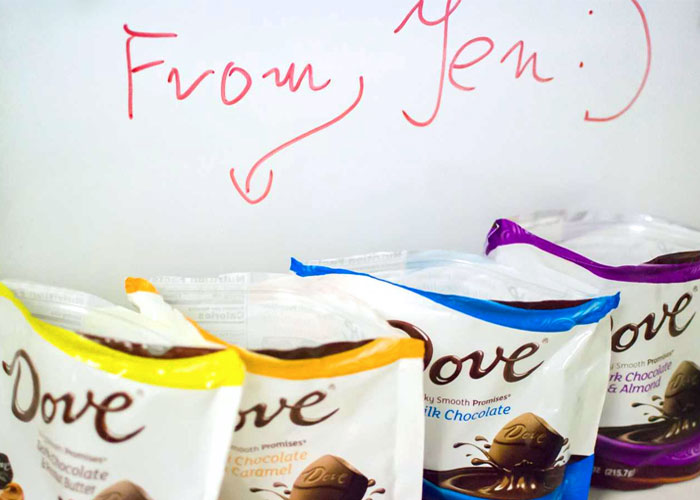 Manoj also brought a variety of popular American chocolates along with the ducks, which were a huge hit (no surprise there)! Seems like our Polish team has a sweet tooth too! The team's favorite was Reese's Peanut Butter Cups. They were also very thankful to PCMI's Director of Financial Services – Jen Schumal, who sent Dove chocolates (she is known to have a chocolate-pick-me-up supply at our Chicago office as well).
Manoj and the Poland team had a good time while working and having fun, and he is already looking forward to making a trip there again!
Get to Know Us