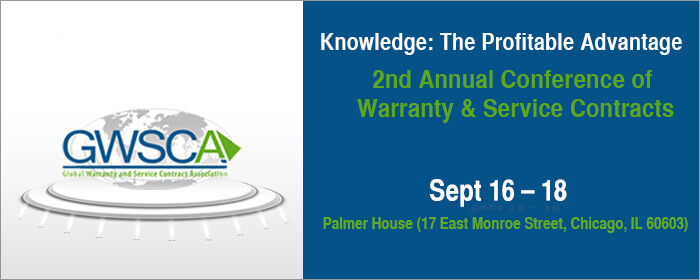 Once again, PCMI will be sponsoring the Global Warranty and Service Contract Association (GWSCA) Conference on September 16th – 18th, 2015 at The Palmer House Hilton in Chicago, IL. We are proud to announce that our President and CEO, Mark Nagelvoort will be one of the many influential speakers who will be taking part in different seminars during the conference. "GWSCA is a great conference where leading administrators share new technology for improving the Industry. I am excited to share my thoughts during my presentations," stated Mark Nagelvoort.Make sure you stop by our booth in the Monroe Room to meet the PCMI team!
About the Conference
The 2nd Annual Conference on Warranty & Service Contracts will take place on September 16th – 18th at the Palmer House Hilton, Chicago located in Chicago, Illinois.
During the conference there will be simultaneous seminars such as Warranty and Law, Financial and Actuarial, Service Management and many more! Our President and CEO, Mark Nagelvoort will be participating in the "Future of Contracts" session along with Jimmy Bynum (President of Alexander & Preston LLC), James E. Mostofi (President, AIG Warranty, U.S & Canada), Aleem Lakhani (Executive VP, AMT Warranty Corporation and AmTrust North America, Specialty Risk Solutions Division), and Larry King (General Manager, Ford Motor).
Additionally, he will also take part of the 7th session- Impact of Social Media and Technology on Customer along with Patrick Scheen (CEO, Accentf(x)), Roger Huff (Director, Social Media & Digital Strategy, Accent Marketing), Jim Martinez (Managing Consulting, RightStory Group), Jean Bredeson (President, Service 800), Corey Rocquin (Director of Warranty Operations, Fortegra), and Sean Hicks (CEO, New Leaf Service Contracts).