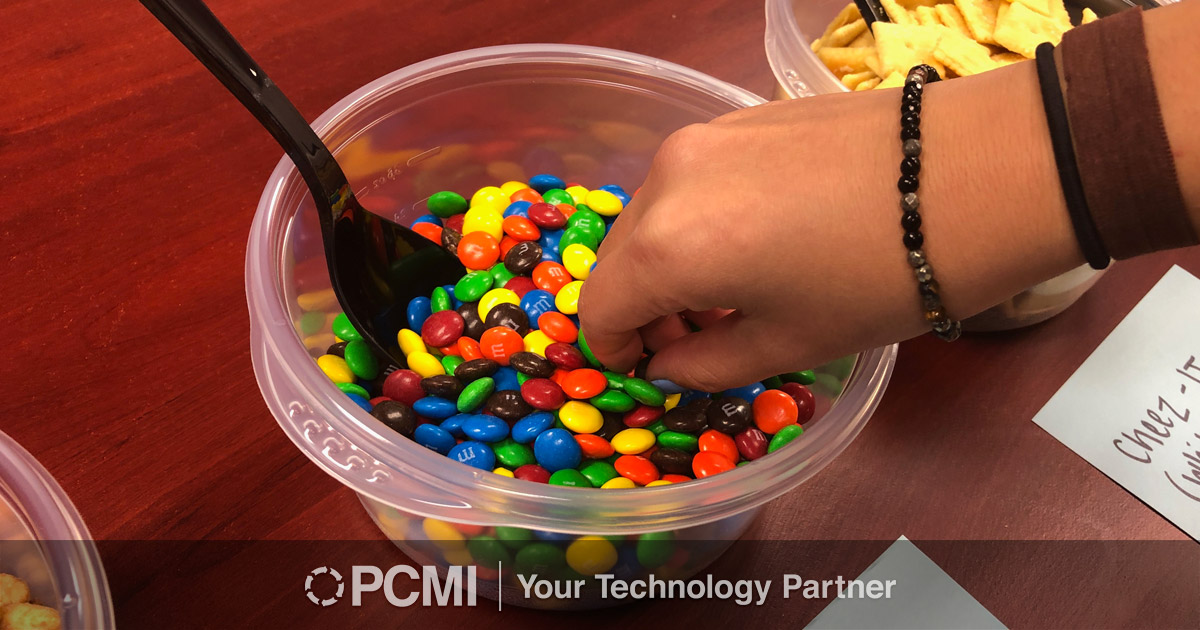 B y the time Friday rolls around in the office after a busy week, we are all ready for a little pick-me-up to help get us to the weekend. And what better way to liven up the workplace than food? On Friday, September 6th, PCMI had its first ever "Foodie Friday!"
Snack Time for the Team!
The theme for our first Foodie Friday was "Trail Mix Day!" One of our conference rooms was set up with all the trail mix ingredients you can imagine: Chex-Mix, raisins, nuts, Cheeze-Itz, yogurt-covered almonds, and of course, M&M's! At 2pm, employees trooped into the room to make their own custom bag of delicious trail mix! Everyone happily discussed all the possibilities of mixes while assembling their own.
Some picked a lot of different ingredients, some picked only a few, but there was more than enough to go around, and everyone enjoyed the opportunity to take a break and refuel with a snack together.
Application Support Manager Chris Friedberg said, "PCMI brought another awesome "Mix" of team fun, this time for us Foodies. I was eating my scroggin for days! Food is always a great idea when team building, for sure."
Hungry for More
The trail mix was awesome, but perhaps the best part is that the event wasn't just a one-time thing—PCMI will be having Foodie Friday on the first Friday of every month! We can't wait to see what kind of snacks there will be next time!
Get to Know Us