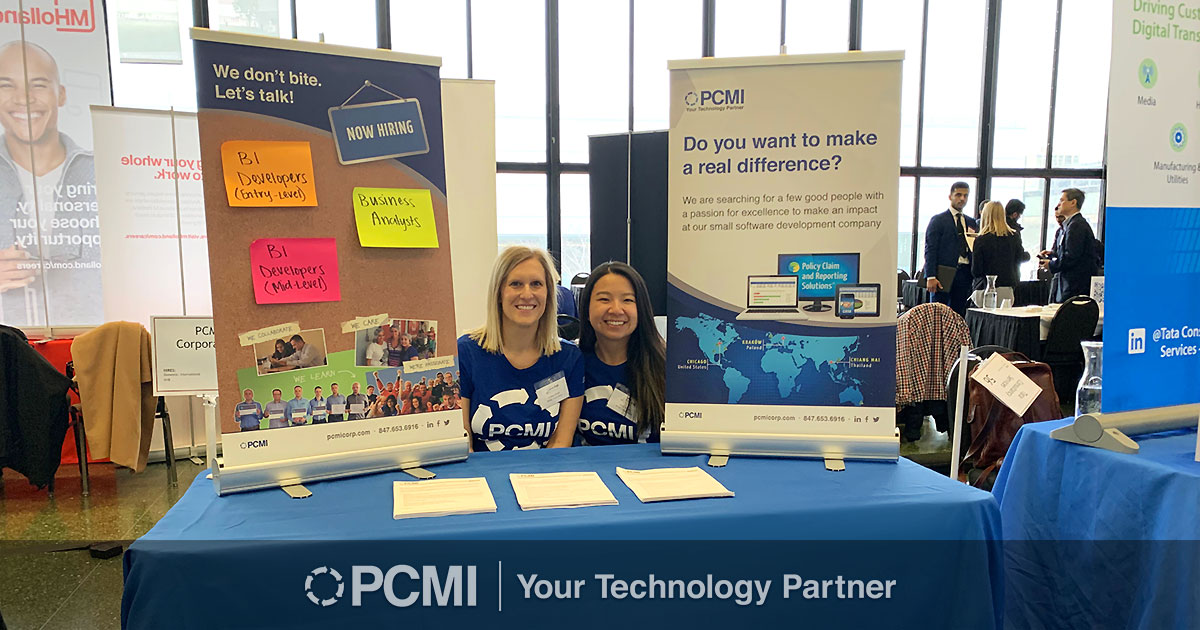 O n Wednesday, February 26th, our PCMI team attended the IIT Career Fair 2020 held at Illinois Institute of Technology to scout out some eager talent looking for career opportunities in our company! Lindsay Dolph – HR Specialist and Mary Bandy – Marketing Associate, spent the day meeting and greeting students who specialize in computer science, information technology, and business services. PCMI attends this fair every year and the students we meet there never fail to impress. We have found many great fits for our team over the years who excel in their roles, often growing from interns to full-time employees. We can't wait to find more!
Begin Your Journey Here With Us
We met many bright candidates at the IIT Career Fair 2020 who were studying a wide range of academic subjects relevant to just what we were looking for at our company. Some crucial roles we were actively recruiting for were for Business Analysts, and Mid-Level and Entry-Level Business Intelligence Developers. In our data-intensive roles, such as the BI Developer opening, we were looking for applicants who were well-versed in Power BI, SSIS, SSAS, and Transact-SQL. They would analyze and interpret trends or patterns in complex data sets, as well as providing quality assurance of imported data. Additionally, they would work with the QA team as necessary and communicate with other BI team members to prepare and deliver reports and recommendations. For our Business Analyst positions, we were searching for people with excellent communication skills, ready to take the lead on clients' issues and solve problems head on, all while collaborating with our other BAs, sharing ideas and solutions. They would participate in multiple projects by completing and updating project documentation, managing project scope, and meeting project schedules. In addition, they would work to identify opportunities, improve efficiency, and assist project managers on larger, more complex projects.
Join our Winning Team!
PCMI is always looking for candidates who would be stellar additions to our company. We need people who are passionate about making an impact in the industry and ready to use their skills and talents to make a difference at PCMI and beyond. Want to join our all-star team? Learn about the incredible reasons to work with us and check out our career opportunities below!
Join Our Team