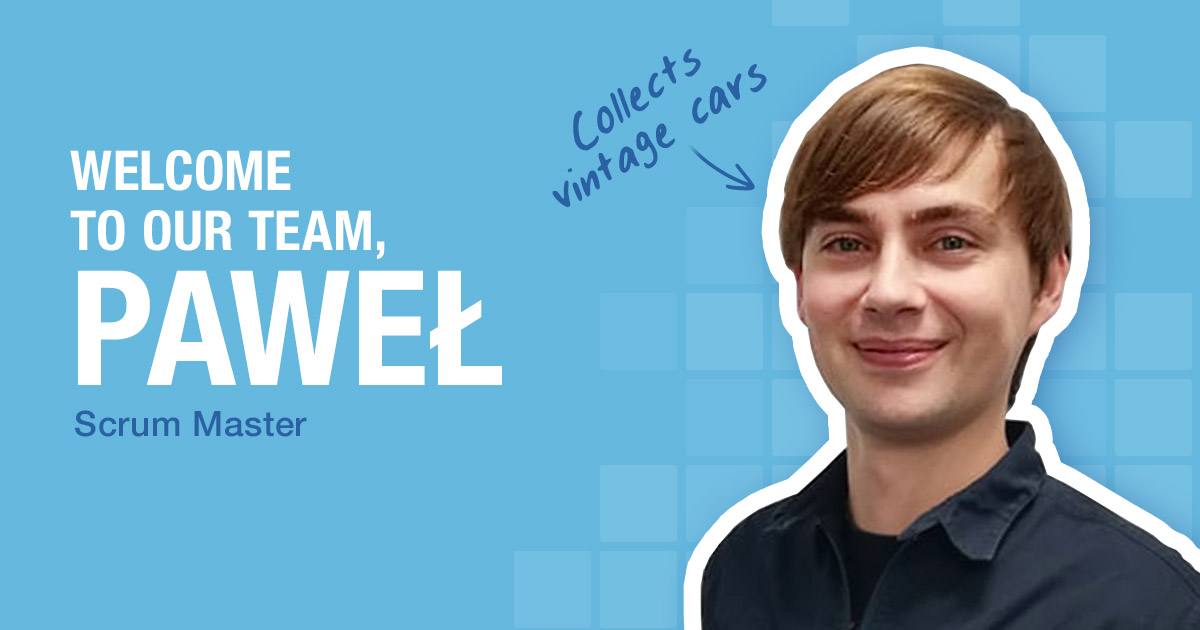 O ur Poland office is thrilled to welcome Paweł Rewinski to the team as our newest Scrum Master. In this position, he will be dedicated to crafting an ideal environment for our team to work as effectively and efficiently on our PCRS software as possible. Paweł will also ensure a strong relationship between our team and external stakeholders, creating bonds both inside the office and out. This Agile enthusiast looks forward to forming exceptional teams, meeting new people, and further developing his professional skills.
"Getting to know people, helping them solve their problems and becoming better is the most exciting thing for me."
The Professional Side
Paweł's path to the world of tech wasn't linear – he finished the Belarusian State Medical University as a Dentist of General Practice, but found his passions laid outside of his education. His first job as a mobile phone wholesale manager was where he realized he loved working with people, so he utilized the focus, commitment, and critical mindset he attained while at school to fully make his way to the IT industry. After 8 years as a QA Engineer, Paweł made the transition to Scrum Master, where he is fully enjoying his professional journey.
Top Strengths
PCMI recognizes that our team members contribute unique strengths to our company as a whole. In order to maximize these strengths, we ask our new hires to complete the CliftonStrengths assessment, which helps us discover what they naturally do best. Paweł's top strengths are:
The Personal Side
Paweł's passions outside of work range far and wide – but perhaps his most unique hobby is collecting 80s and 90s cars. He currently owns 4 cars which he uses to learn how to fix and care for in his free time. This pastime is extremely relaxing for Paweł because it allows him to be completely focused on the task at hand. This Belarus native is also is a long-time gamer, stating that his love for videogames began when he was about 6 years old.
When he's not in his garage or leveling up, Paweł loves to spend time with his two dogs; a Welsh Corgi Pembroke and a mixed-breed that he adopted from a shelter.
BOOK RECOMMENDATION
Your Brain at Work – David Rock
FAVORITE FOOD
Potato pancakes
FAVORITE MOVIE
The Fountain
We're excited to have you #HereAtPCMI!
EXPLORE OUR CAREER PATHS