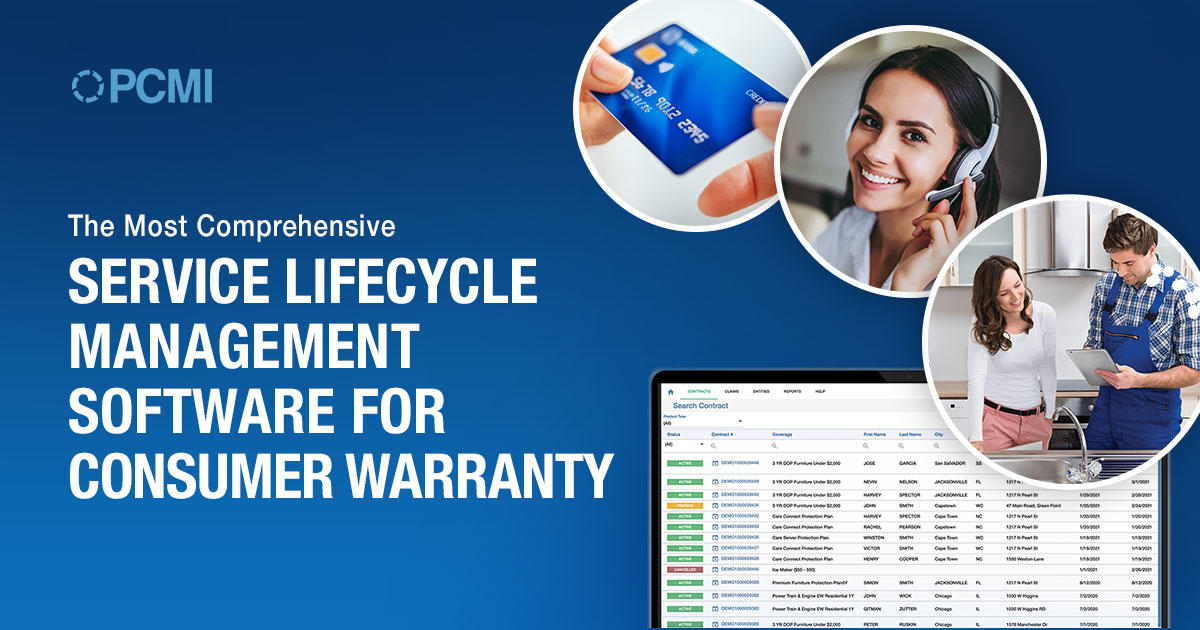 S ervice lifecycle management is a field shaped entirely by its consumers. How they shop, what they buy, and most importantly, what they expect out of an administrator. So how do you continuously satisfy your customers while simultaneously optimizing your business processes?
The answer: service lifecycle management software.
Software is invaluable in helping administrators accurately manage, track, and report on warranty and post-warranty services, and should be considered a necessity within the industry. However, there are many technology providers out there – finding one that fits both your customer's and your team's needs isn't always easy, so it pays to know what to look for.
Keep reading for an in-depth look at what service lifecycle management software is, why you need it, and how to find the best one.
What to Look For in a Service Lifecycle Management Software Provider
Within the business world, digitization and automation are pretty much expected when seeking out a service provider. Service contract management is no different.
The goal is to increase service revenue, offer add-on services or product upgrades, and most importantly, deliver a high-quality service – this can all be easily achieved with the right software.

"Service has a tremendous impact on customer satisfaction. Approximately 40% to 50% of buyers will repurchase from a supplier if service is executed well under a warranty or service contract."
– Julie Messer, Sr. VP, Hornbeam Insurance
Automation and innovation are the top two keywords to keep an eye out for. Software providers that offer these capabilities are delivering a service fine-tuned to consumer needs and wants while also optimizing your team's processes to promote growth and scaling.
PCMI's administration software, PCRS, was designed to achieve exactly this.
What is PCRS?
PCMI offers a modular package of software solutions for the administration of F&I Products, Service Contracts, and Extended Warranties. Our SaaS platform, Policy Claim and Reporting Solutions™ (PCRS), supports and automates the full lifecycle of all service contracts, warranties, and extended warranties.
Our advanced knowledge of the industry allows us to provide the fastest and most flexible environment for administrators, insurers, OEM's, agents, and dealers to launch new products, and there's virtually no industry we don't cater to.
What does PCRS have to offer as a software provider?
Aside from PCMI's advanced technology and experienced team, there are many advantages and benefits to leveraging PCRS as a service lifecycle management software.
Take a look below at some of the more specific capabilities PCRS has to offer.
Customize & configure the warranty experience
Automate and streamline processes
Provide advanced reporting to make better decisions
Create new warranty products and market within days
Bundle multiple covered products
Offer flexible term-based plans
Sophisticated rating engine
Optional & included coverages using surcharge capabilities
Integrate with third party solutions with PCRS API suite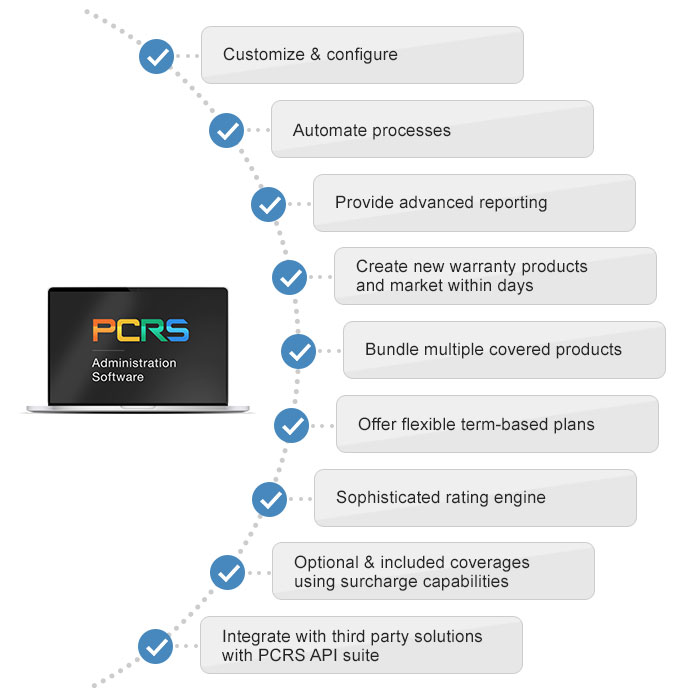 Not to mention, the PCMI team makes it a priority to be a technology partner and not just a provider. That is a promise to all of our clients that they will receive continuous and exceptional support for the entirety of our partnership starting with our very own implementation team.
"PCRS automates the process of tracking and managing a product's warranties throughout its lifecycle by connecting dealers, service providers, and customers. It provides business users with insights to identify trends, reduce costs, improve service, quality & productivity."
– Anju Nair, Product Owner – Consumer Warranty, PCMI
In Conclusion
PCMI is a software provider that successfully anticipates your needs as well as your customers. Our technology is designed to be intuitive and comprehensive so that it caters to each users' individual requirements, which is what makes PCRS software stand out from the rest.
Talk to our team today to see how your business can have a successful future with PCMI!
BOOK A DEMO