PCRS F&I Software
Administration Software
for F&I Products and Service Contracts
Our future-ready F&I software automates warranty administration services for all aftermarket products throughout their lifecycle.
F&I Industries Served
Supported Aftermarket Products
Vehicle Service Contracts (VSC)
Guaranteed Asset Protection (GAP)
PCRS F&I Modules
Scalable Platform Built to Maximize Potential
Open Sales Platform
Policy Administration
Claims Administration
Risk Management
Performance Reporting
Reinsurance
Notification Center
Open Sales Platform
Allows users to provide real-time rates and contracts to dealer menus via eRating and eContracting. Users are able to issue policies with electronic signatures and present products to consumers through their own point of sales channels and/or their partners. Having 140+ partners in our network gives dealers the ability to connect to the eMenu or DMS system of their choice.
Policy Administration
Our policy administration software supports billing, commissions, cancellations, and different statuses of the policy throughout its lifetime, allowing for seamless coverage rating, contracting, and contract remittance. Being fully integrated with your accounting system lets you create, manage, and modify your agents, dealers, coverages, and contracts. This also grants your agents direct access via our Agent Portal.
Claims Administration
Our warranty administration software allows the dealer to expedite the claim process through automation and view detailed reporting to experience a quicker ROI. The easy-to-use screens follow the conversation between servicer and adjuster to allow for faster processing and decision times. Integration with inspection companies and virtual payments partners gives users the ability to make credit card payments for claims within the system. Also provides automated claim adjudication with CHIP technology.
Risk Management
Enables users to track earnings, profits, and reinsurance requirements through reporting and flexible earnings curve configurations. Also allows you to estimate premium earnings across products with revenue recognition. This helps to gain a greater understanding of cost points to help design new products.
Performance Reporting
Provides a cross section of analytical reports designed to support management's goals for risk reduction. These parameter driven reports cover key risk areas that impact profitability such as: Class, Dealers, Dealer Groups, Make, Model, Coverage Plans, Terms, Vehicle Features, etc. This gives users the ability to evaluate the entire portfolio or sharpen the focus down to an individual item.
Reinsurance
Reporting tools that reflect Reinsurance company production totals and counts. The reports can be run either on a quarterly or monthly basis with the ability to drill down to the contract level. This module tracks license information, bank account information, companies in a warehouse phase, beginning ceding dates, and changes using an audit trail functionality. Reinsurance can be set up per product type and can be used for both CFC and NCFC corporations. We also offer users to import bank activity, so statements will include bank information.
Notification Center
This module's easy-to-use interface allows administrators to configure emails, text notifications, and letters to best fit the receiver's preferences via customizable templates and triggers. These triggers can be configured based on dollar amount, days, or miles. If you wish to communicate with your receiver in a different language, you have the ability to input the wording of your choosing.
Connecting Through APIs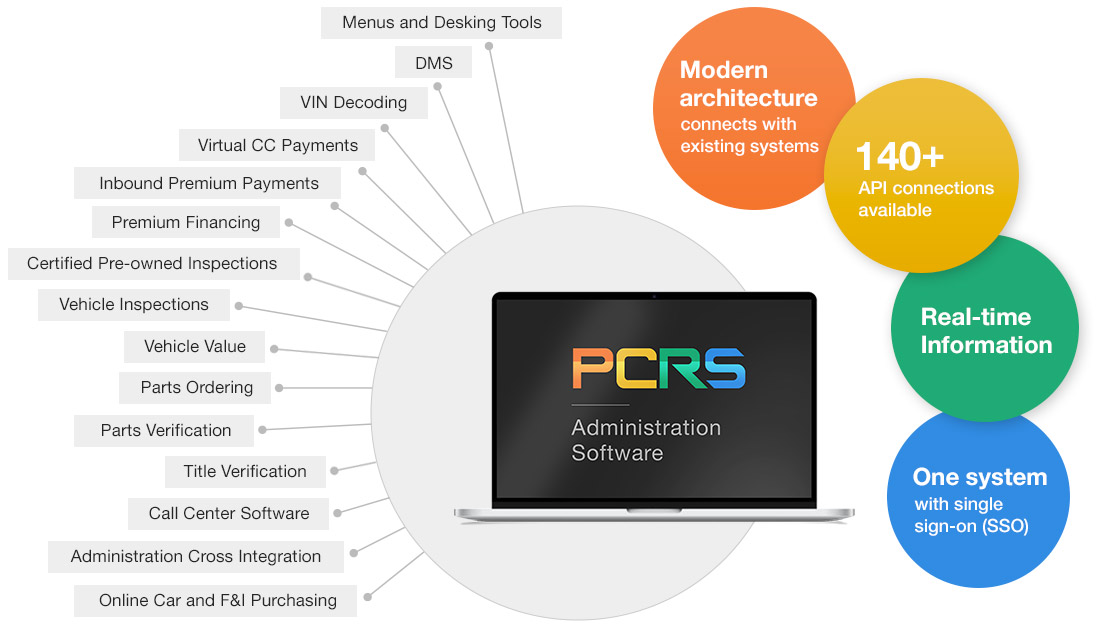 Connecting through APIs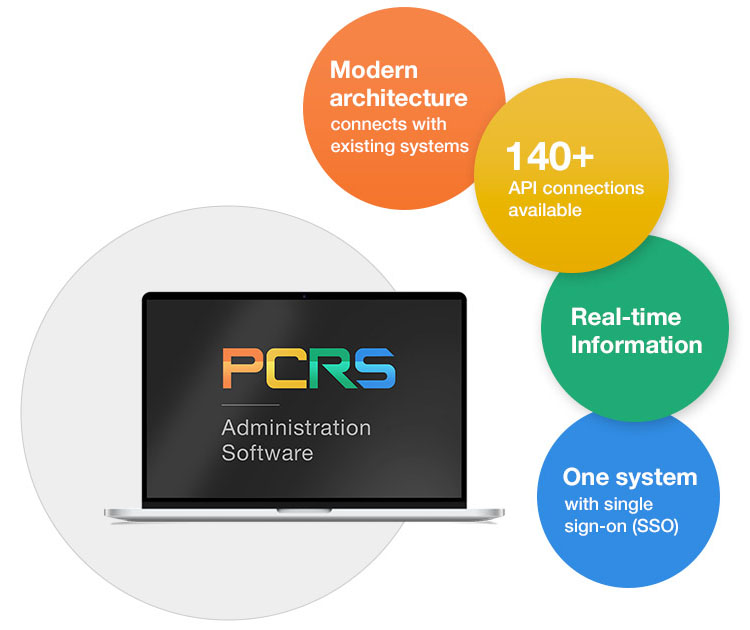 Available Integrations
Menus and Desking Tools
DMS
VIN Coding
Virtual CC Payments
Inbound Premium Payments
Premium Financing
Certified Pre-owned Inspections
Vehicle Inspections
Vehicle Value
Parts Ordering
Parts Verification
Title Verification
Call Center Software
Administration Cross Integration
Online Car and F&I Purchasing
PCMI provides endless opportunities to our clients through our strategic relationships with industry leaders. We have 140+ partners currently integrated to PCRS through our API connections allowing end-users a seamless experience by saving time and simplifying administration processes.
Benefits You Can't Ignore
Automate
the full lifecycle of all aftermarket products and service contracts
Customize
your product offering using our flexible system
Integrate
with industry partners seamlessly using our API connections
Launch
new products to the market within days
Convert
your legacy data to administer and report all in one place
Secure
your data in our dedicated managed hosting environment
Reduce
personnel costs and eliminate the need for additional IT staff
Access
our user-friendly interface anytime, anywhere, on any browser