The PCMI Chicago Team had their annual Holiday Dinner on December 8th at a festive Italian restaurant, Moretti's, in Chicago. This was a special day dedicated for the team to come together and celebrate the Holiday Season, the successful year, and all the exciting things to come. While eating delicious food and mingling with colleagues, the team also participated in its highly-anticipated Secret Santa gift exchange!
The traditional dinner and Secret Santa exchange were also accompanied by the customary "Ugly Sweater" competition. Team members dressed in their best gear all day, and votes were cast during the work hours. There were to be three winners announced at the dinner: Ugly Sweater, Uglier Sweater, and Ugliest Sweater.
Who would take the prize this year?!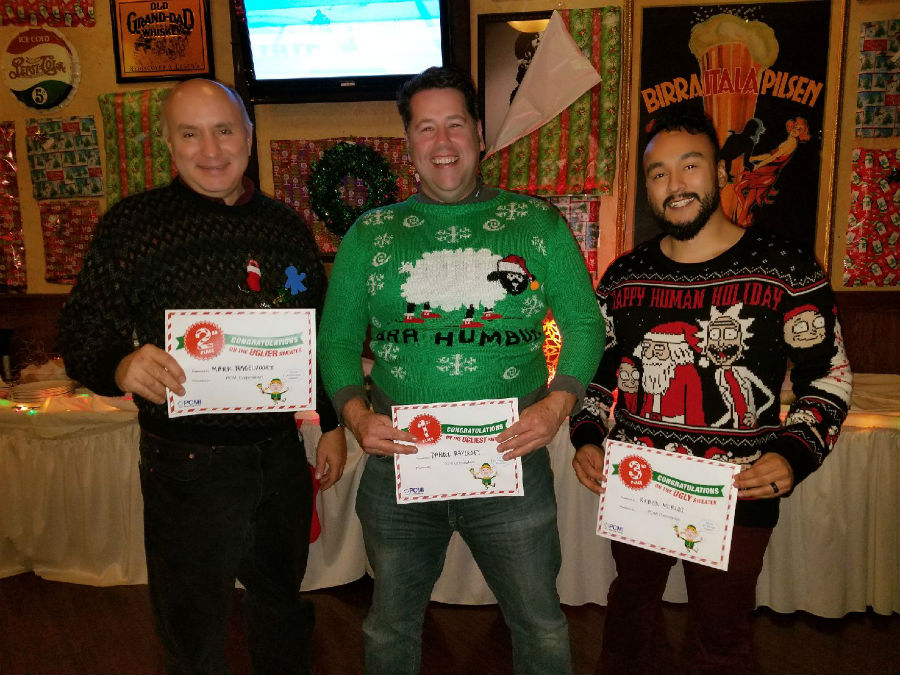 The champion of the day was VP of Business Development – Daniel Raycroft and his "Bah Hum Bah" sweater, walking away with the Ugliest Sweater Award. In second place was President & CEO – Mark Nagelvoort with his "Music Playing Light Show" sweater taking the Uglier Sweater Award, followed in a close third by Software Support Specialist – Ruben Merlos with his "Happy Human Holiday" sweater getting the Ugly Sweater Award.
Thank you to everyone who participated in wearing ugly sweaters!
The team had a lovely time dining together, sharing stories and laughter, and exchanging Secret Santa gifts with one another. It was an amazing time to celebrate together and commemorate on the joys and successes of the year. Being exposed to the infectious holiday cheer helped start the Holiday Season off merry and bright!