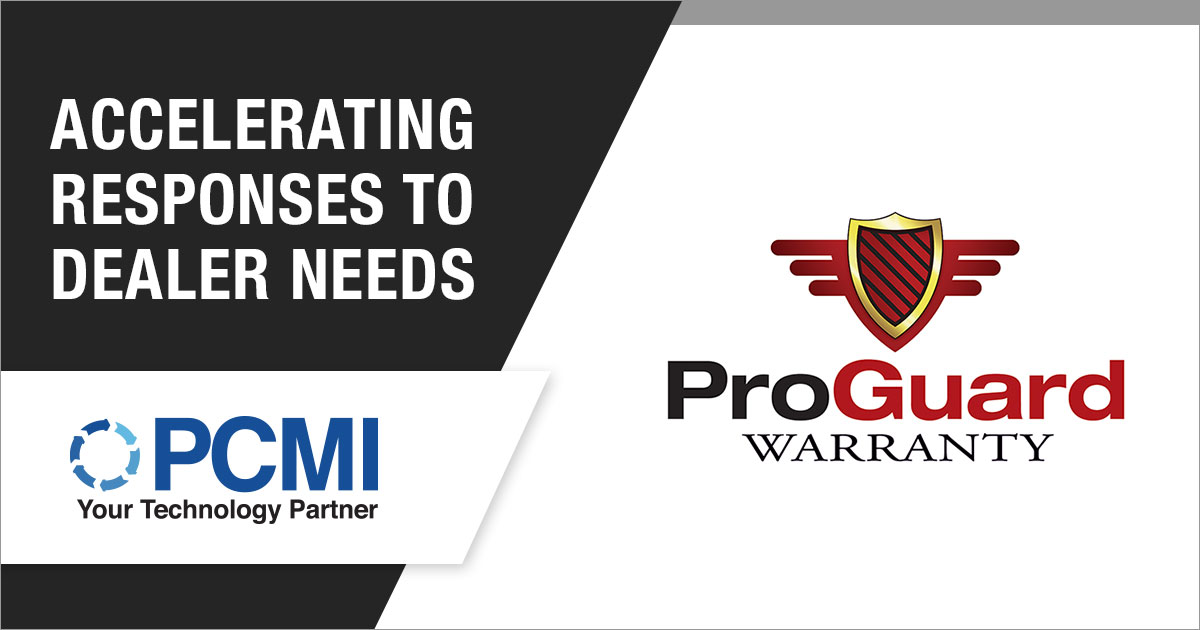 Implementation of the PCRS software platform will give ProGuard Warranty the competitive edge by streamlining entire operation.
PARK RIDGE, Illinois – June 18, 2019 – ProGuard Warranty has partnered with PCMI Corporation to license and implement PCMI's Policy Claim and Reporting Solutions™ (PCRS) platform. The PCRS modular system automates the administration of F&I Products, Extended Warranties, Service Contracts, and all aftermarket products.
Dominic Limongelli, President of ProGuard Warranty, said about the agreement, "As a company, ProGuard has exceeded every growth benchmark we've set and now we are looking at what we need to do to get to the next level. Further enriching the customer experience is our top priority and we believe this solution will help us do so by continuing to raise the bar on efficiency."
"Incorporating the PCRS administration management software into our workflow will enhance internal systems, allowing us to calculate losses in real-time, improve claims processes, and accelerate data entry and cancellations – streamlining our entire operation." – Dominic Limongelli, President of ProGuard Warranty
Limongelli stated, "Our dealer partners, who already tell us our online contract platform is faster and easier than any other company, will benefit from quicker integration of their menu and dealer management systems to help expedite closing and processing contracts. We are confident that introducing PCMI's robust management software into our mix will give us a competitive edge by accelerating our responses to dealer's needs and continuing to create new products that help them improve profitability."
Mark Nagelvoort, President & CEO of PCMI Corporation, said, "ProGuard Warranty has a truly experienced team that is responsible for the successful growth of their company. PCMI is looking forward to complementing their business model by automating the administration of their innovative, world-class products. Optimizing our PCRS platform to support both franchised and non-franchised dealerships will keep us on our path to success. We are thrilled to be expanding our footprint in the industry."
About ProGuard Warranty
ProGuard Warranty is a third-generation, family-owned business that has been serving the automotive industry for nearly seventy years. They offer an expansive menu of new and pre-owned vehicle protection plans through their nationwide network of dealer partners. Dealers appreciate the company's tradition of flexibility, transparency, and simplicity, and their customers appreciate their commitment to protecting them from the high cost of repairs.
For more information: Dominic Limongelli – President, dlimongelli@proguardwarranty.com or (877) 474-9462 Ext 105.
About PCMI Corporation
PCMI Corporation offers a modular package of software solutions for the administration of F&I Products, Service Contracts, and Extended Warranties. Our SaaS platform, Policy Claim and Reporting Solutions™ (PCRS), supports and automates the full lifecycle of all aftermarket products.
Our advanced knowledge of the industry allows us to provide the fastest and most flexible environment for administrators, insurers, OEM's, agents, and dealers to launch new products. Our team of 95+ individuals with a global presence in the U.S., Europe, and Asia enables continuous around-the-clock innovation, customer-focused support, and quick speed to market.
For more, information: Mark Nagelvoort – President & CEO, mark.nagelvoort@pcmicorp.com or (847) 653-6916.
---
Source: PRWeb
PDF: ProGuard Warranty Signs Agreement with PCMI to Automate and Enhance Vehicle Service Contracts through PCRS