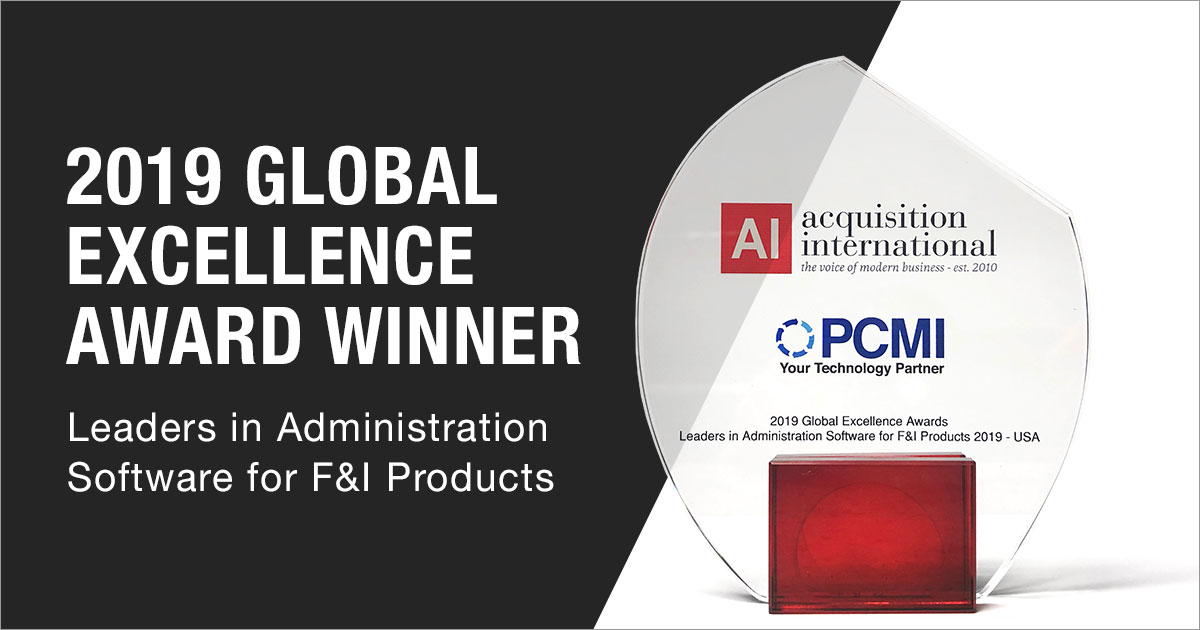 PCMI's administration platform, Policy Claim and Reporting Solutions™ (PCRS) automates the full lifecycle of all aftermarket products.
PCMI Corporation is proud to be the recipient of the award for "Leaders in Administration Software for F&I Products 2019 – USA" as part of the Global Excellence Awards distributed by Acquisition International.
The Global Excellence Awards are a yearly program that recognizes and rewards firms and individuals who have demonstrated an outstanding performance in leadership in their industry. The in-depth award selection process is conducted by AI's in-house awards specialists and research team, who carefully decide the chosen firms based on their proven performance over the past 12 months, guaranteeing that all those who receive an award truly deserve their place among the year's winners.
PCMI is the leading provider of integrated software solutions for Extended Warranty management and F&I administration. Through the modular platform of PCRS, customers can utilize each module individually to enhance their current systems or implement all at once as a complete solution. The company designed their system to empower their customers and give them the ability to build and define their own products. This flexibility of PCRS has provided solutions for many different types of companies, from major corporations to small, four-employee companies. With a real passion and commitment to technology, PCMI sees themselves as more than just a software provider — they strive to be "Your Technology Partner" by taking the time, energy, and effort to customize their systems and meet their clients' individual needs.
"It's an honor for PCMI to receive this award and to be recognized as a leader in innovation for F&I products. We're constantly aligning our development to keep up with the evolving buyer patterns and dealership demands for quick information access. As a result of years of building an experienced team of industry leaders, our clients have confidence that we understand their business and they can rely on us for solutions," said Mark Nagelvoort, CEO of PCMI Corporation
PCMI is featured in a one page article in Acquisition International magazine that includes an interview with Nagelvoort.
About Acquisition International
Acquisition International, or AI as they are more commonly known, is an international, monthly digital business magazine committed to bringing its readers up to the minute news, comment and analysis. As the voice of modern business, AI is dedicated to delivering vital updates to their corporate readers so that they remain ahead of the curve.
Acquisition International launched in 2010, and has, over the years, evolved into a business title that professionals rely on to bring them the business knowledge, insight and news they need. Each month our magazine is circulated to in-excess of 108,000 professionals, including Top Tier Managers, Investment Professionals, Business Advisers and Service Providers.
For more information: Visit www.acq-intl.com where you can view both our latest and previous editions of the magazine.
About PCMI Corporation
PCMI Corporation offers a modular package of software solutions for the administration of F&I Products, Service Contracts, and Extended Warranties. Our SaaS platform, Policy Claim and Reporting Solutions™ (PCRS), supports and automates the full lifecycle of all aftermarket products.
Our advanced knowledge of the industry allows us to provide the fastest and most flexible environment for administrators, insurers, OEM's, agents, and dealers to launch new products. Our team of 95+ individuals with a global presence in the U.S., Europe, and Asia enables continuous around-the-clock innovation, customer-focused support, and quick speed to market.
For more information: Mark Nagelvoort – CEO, mark.nagelvoort@pcmicorp.com or (847) 653-6916.
Meet our Leadership Team