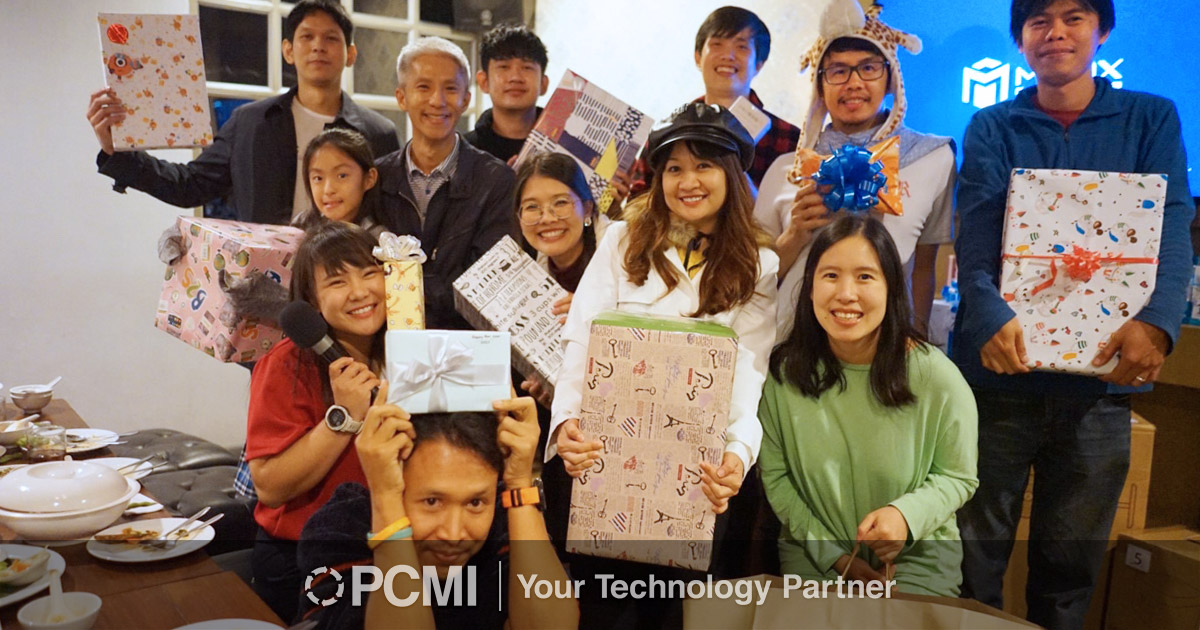 P CMI's Thailand team celebrated the beginning of the new year and the successes of the past year at an awesome restaurant in Chiang Mai! The team gathered at a famous restaurant called the Good View Village, which had beautiful views under pretty lights right by the water. The team enjoyed spending time together at their special dinner complete with a gift exchange and karaoke!
Thai Fusion & Seafood Dinner
For their dinner, workers chose a spacious banquet hall indoors. The menu offered so many delicious options and employees decided on ordering a bunch of different types of Thai fusion food: raw salmon in fish sauce, deep fried crepe prawn, stir-fried squid with salted egg yolk, stir-fried soft-shell crab with black pepper sauce, and some deep-fried pork knuckle.
Along with all the seafood, the team also ordered some scrumptious and sweet Thai fruit—watermelon, guava, pineapple and melon. The team ate all they could from the delicious array of dishes, but there is always room for dessert! Later in the night, the team ordered some cakes to finish off the big meal.
Talented Singers & Lucky Winners
There was a karaoke room also located inside of the restaurant, and everyone was excited to show off their skills. The team plopped down on some comfy couches and selected songs to start singing! Almost everyone participated in belting out some tunes and some workers even broke out dance moves to the beat of the songs. The coworkers quickly discovered that Chin Ngamsom and Pooy Sriwichai were the most skilled singers!
After having a blast with all the karaoke songs, it was time for the gift exchange! The team had previously bought gifts for the exchange and everyone gave the presents to each other based off a number they drew. There was no way of predicting what each coworker got for the other and the team had a lot of fun and surprises when it was time to open them. Along with the nice gifts from coworkers, the team also received gifts from PCMI as a token of appreciation for their hard work during the year! There were 12 gifts in total, and they used a "lucky draw" to find who would receive what. The presents were useful home appliances, such as vacuum cleaners, a floor fan, lamps, rice cookers, and wireless earpods!
Team members Paul Prasert and Naam Suriyanan were the luckiest winners of the night, scoring vacuum cleaners!
The Thailand team's celebration was a fantastic kick-off to the new year, with all the food, singing, and well-deserved gifts for the group's hard work. May the next year be packed with even more success and great times as a team!
Get to Know Us