O ur PCMI Poland team moved to a bigger, brighter, and more beautiful new office in Krakow's prime location! In recent years, our Poland team has grown beyond what the old office walls were capable of comfortably accommodating. Their new modern building has a spacious parking lot and is conveniently located by a number of public transportation options, which makes a positive difference in everyone's daily commute. The new location comes with exciting amenities, such as a sandwich shop inside the building and a fitness center and park nearby. In contrast to the previous office, which was located in a more industrial area, the new neighborhood gives our Poland team a chance to take more refreshing and enjoyable breaks. Moving a team of about 70 was a challenge, yet certainly well worth it! Our Poland team has successfully accomplished yet another impressive feat!
Comfortable Conference Rooms
The Poland team not only has more space to spread out—almost 9,0000 square feet more than their old office—it also has two floors and three comfortable conference rooms, which are perfect for internal meetings and for employees to collaborate together conveniently and comfortably. The smallest conference room is decorated in a more casual, laid back style, with flowers and colorful poufs, making it the ideal place to organize small group meetings.
Dining in the Dream Kitchen
A favorite part of the new office is the bright and airy kitchen and dining area, fully equipped with a fridge, kettle, coffee makers, toaster and a set of cookware, allowing workers to quickly and easily prepare their meals! Another great feature of the beautiful kitchen is that it has a perfect space for fresh fruits, which are delivered to the office every Monday for "Fruit Monday." The kitchen has become a place where everyone loves to go take a nice break from work and rest for a moment, chat with some co-workers, and enjoy a warm cup of hot coffee or tea.  This is a major improvement from the tiny space they had in their old office.
Open Spaces for Teams and Plants
The new office is designed with an "open space plan," letting team members move around and collaborate easily. The space also has tables arranged in islands which are great locations to work together as a team. The open space work environment is key to communication and fluidity, enabling co-workers to come together, execute plans smoothly, and put their ideas into play immediately.
Lovely potted flowers have made an appearance on desks, creating a pleasant and tranquil work environment. Between all desks are blue office partitions, organizers, open shelving, or glass panels – all promoting integration and openness while not inhibiting the sense of privacy and personal comfort.
A Focus on Health and Comfort
In addition to the many standard desks, there are two workstations, consisting of standing desks on the 1st floor. These allow members to stand up and loosen up, preventing stiff muscles and back pain, while still getting their work done!
Another fun and healthy feature of the new office are the exercise balls! You can find them tucked in between or underneath desks. The idea of sitting on an exercise ball instead of a traditional office chair is that the instability of an exercise ball requires the user to use their muscles more, thus improving posture and decreasing discomfort—all our PCMI team members love this idea! Even with all the exercise balls, new desks, and other neat things in the office, there's still a ton of space for new hires. We have big plans for a lot of team growth in the near future.
So Many Beautiful Areas to Design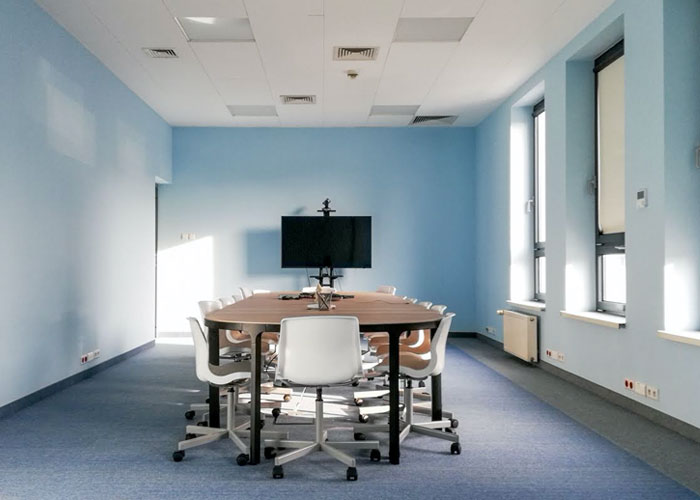 The move, which was not an easy task in terms of logistics, was surprisingly efficient. The team managed to relocate everything and everyone to the new building without sacrificing any work time or productivity. And they're not done yet! There's still a lot to do and we have a ton  of decoration ideas and office supplies to add to make the space even more inviting. Many more fun and exciting additions are soon to come!
Get to Know Us