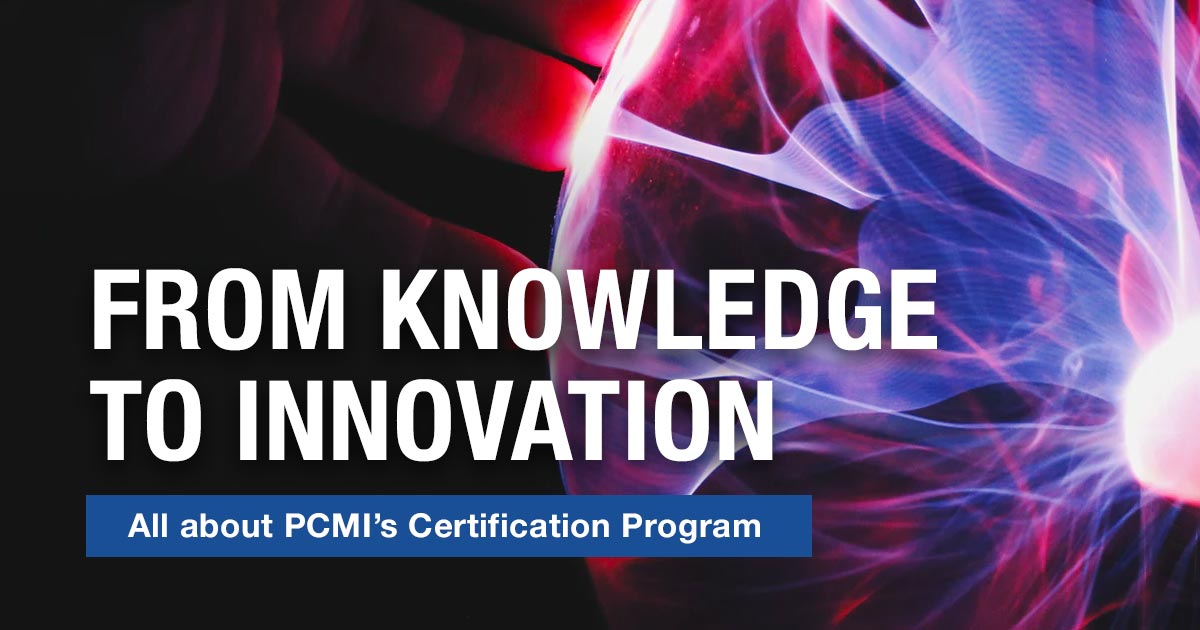 A t PCMI, we know that continuous improvement and growth are essential to providing top level software to our clients, which is why we take personal development very seriously. Through our detailed certification program, our team members have acquired an incredible total of 174 certifications, sharpening our skills and giving us the confidence to fearlessly innovate. We're proud to have a team that proves they are eager to gain the expertise necessary to stay abreast of the latest technologies.
Comprehensive Certification Program
We prioritize learning and focus on giving our team members every opportunity to develop and deepen their knowledge. Every year, our managers meet with their employees individually to set a goal to achieve certifications that will most effectively enhance their skills relevant to their position. To make sure our employees are well-prepared for tests or exams, we provide any books and study materials they require or encourage them to attend classes and seminars. After employees successfully complete their certification course or exam, they are fully reimbursed for any fees they paid and receive a bonus. As a result of this certification program and our company's innate dedication to improvement and growth, our team members are experts in the following categories:
1. Software Development
Our Developers and IT Specialists work to constantly innovate and enhance features for our PCRS software, so we know it is crucial that their skills be current with the ever-evolving technologies. The bulk of our certifications are held by our developers which proves their technical expertise in areas such as machine learning, business intelligence, business applications, and data management, and analytics. Microsoft Certifications are a popular achievement among our Developers, with many of them having passed numerous levels of accreditation. Passing these industry-recognized courses has allowed them to validate their IT acumen and has opened them up for promotions or opportunities to move into positions of leadership within their team. Specific certifications reached by many PCMI team members are MCSA: Web Applications, MCSD: App Builder, MCSA, and many other certification exams.
PCMI is also a Microsoft Gold Certified Partner, which is the highest status given to Microsoft partners. Companies with this status are recognized for their dedication to consistently provide innovative and effective business solutions to their customers. Additionally, this prestigious title means that our company met the requirements set by Microsoft, including reaching the certification and sales requirements and having at least four qualified Microsoft Certified Trainers (MCTs) in our company.
2. Quality Assurance
Our QA team has the indispensable role of testing our software and ensuring our systems remain at peak performance. We know how important it is that our clients have confidence that our solutions will go above and beyond their expectations. To consistently deliver results, our team has a broad understanding of testing and strong skills in analyzing internal system structure, managing tasks, and assessing requirements in terms of scope. They have received certifications such as the ISTBQ® Foundation Level and ISTBQ® Advanced Level to deepen their understanding of testing through a software lifecycle, test design techniques and management, and knowledge of support tools for testing. Other QA-focused exams our team has passed are MCSE: Data Management and Analytics and Microsoft Exam 70-497: Software Testing with Visual Studio.
3. Customer Implementation & Support
Team members who assist our clients take charge of projects for our customers, resolving issues, and guiding processes from start to finish. It's a top priority that our software implementation deliverables are met within the projected time, budget, and scope.  To meet these expectations, our team members in these roles have completed courses and exams that taught them valuable ways to improve communication and keep their team connected and highly organized. Several of our employees are Certified Scrum Masters® and Certified Scrum Product Owners®. Other certification exams our Business Analysts and Project Managers have passed are CCBA (Certification of Capability in Business Analysis) exams, PMP (Project Manager Professional) exams, and Technical Communication Fundamentals.
4. Sales & Marketing
Our Sales and Marketing team is responsible for driving sales and raising awareness of our brand and image to potential customers. By getting certifications relevant to these roles, team members have enhanced their knowledge on how to better market our products, sell more efficiently, and communicate seamlessly with potential customers and those curious about our services. Examples from our certification program that our team members in these roles have accomplished are the HubSpot Email Marketing Certification and the Salesforce Administrator Certification.
5. And Many More!
In addition to the above listed categories, we have many qualified people in Human Resources, Administration, and Management positions. For our Human Resources department, our professionals find candidates who fit in with our driven and ambitious team culture. Our HR team needs to be well-versed in how to recruit the best talent out there and provide a safe and happy workplace for all employees. They have proven that they are fully capable of these requirements, receiving certifications validating their dedication, credibility, and knowledge of their field. Our HR team members have passed exams from our certification program  such as the aPHR Exam – Associate Professional in Human Resources™ and PHR Exam – Professional in Human Resources®. For our leadership roles, it is critical our managers and leaders know how to effectively balance all their responsibilities, from directing multiple projects to developing their new team members. Many of our leaders have achieved the Management 3.0 certification, giving them the professional knowledge on how to lead and keep our company on its path to success. Several of our leaders also hold advanced-level certifications specific to their departments.
We're Just Getting Started
Our company employs many talented people who are highly qualified in their knowledge of how to best serve our industry. We are proud to have a team with proven aptitude in a vast array of subjects and the ability to bring innovation and success to our customers. And we're showing no signs of slowing down.
Get to Know Us