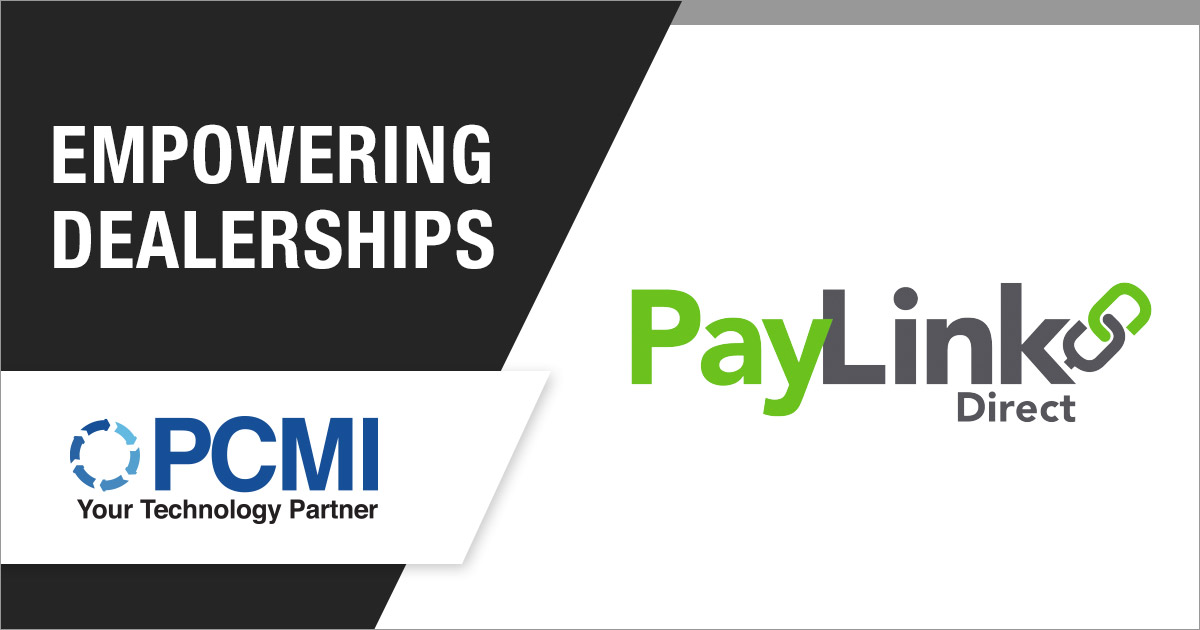 Integration of platform(s) will maximize dealers' sales and profits by streamlining processes
PARK RIDGE, Illinois – July 30, 2019 – PayLink Direct has partnered with PCMI to integrate its 0% payment plan program into PCMI's Policy Claim and Reporting Solutions™ (PCRS) dealer contracting module – Open Sales Platform. PayLink Direct is one of the largest financial services providers for the vehicle service contract industry and has seen immense success expanding its 0% interest financial offering with this addition to the Open Sales Platform. This platform enables users to price their product correctly, issue policies with electronic signature, and present products to consumers, all in one portal, so administrators no longer need to switch screens to reenter data into different portals and websites.
Integration to PCRS's dealer contracting module will automate the process of selling service contracts and financing those sales will increase the speed of sale, allowing dealers and marketers to focus on maximizing profits and sales volume while consumers are provided a smooth and fast buying process.
Sandy Harris, SVP, National Sales at PayLink Direct, said, "Our goal in our partnership with PCMI is to create value to our business partners and clients through innovative financial solutions and outstanding services. We want to empower Administrators & Dealerships to maximize revenue by making it easy and profitable to sell F&I products outside of the traditional loan."
Mark Nagelvoort, President & CEO of PCMI, said, "PayLink Direct has proven to be a leading provider of interest-free payment plans in this industry and we look forward to continuing our relationship. We pride ourselves on being 'Your Technology Partner' by providing the most innovative and up-to-date ways of streamlining the F&I administration workflow."
About PayLink Direct
PayLink Direct is a leading financial services company that specializes in providing interest-free payment plans for the purchase of VSCs and other F&I products when purchased outside of an initial loan. Since the company's inception in 2006, PayLink Direct's high performing infrastructure has processed more than 3.5 million service contracts – over $8.4 billion of originated receivables. PayLink Direct is headquartered in Chicago, IL.
Contact Information: Sandy Harris, (215) 850-6298 or Brenda Kereakes, (312) 342-5558 or visit www.paylinkdirect.com.
About PCMI Corporation
PCMI Corporation offers a modular package of software solutions for the administration of F&I Products, Service Contracts, and Extended Warranties. Our SaaS platform, Policy Claim and Reporting Solutions™ (PCRS), supports and automates the full lifecycle of all aftermarket products.
Our advanced knowledge of the industry allows us to provide the fastest and most flexible environment for administrators, insurers, OEM's, agents, and dealers to launch new products. Our team of 95+ individuals with a global presence in the U.S., Europe, and Asia enables continuous around-the-clock innovation, customer-focused support, and quick speed to market.
Contact Information: Mark Nagelvoort (President & CEO), mark.nagelvoort@pcmicorp.com, (847) 653-6916