This new module allows administrators to communicate more effectively through trigger-based emails, text notifications, and letters.
AT A GLANCE
Improve communication with agents, dealers, sales managers, and customers
Create email, text, and letter templates that are automatically merged
Set notification triggers based on the receiver's needs and preferences
H ow are you currently notifying your agents that a dealer has been activated and is ready to sell? Imagine an automated text message hitting your agent's phone as soon as it happens. Suddenly, they have the opportunity to physically go to the dealer's location and help set them up for success.
This is just one example of how PCMI's new Notification Center Module can positively impact your business and your overall profitability. This customizable communication tool allows administrators to take all aspects of their correspondence into their own hands within our Policy Claim and Reporting Solutions™ (PCRS) platform.
Flexible Communication
Agents and dealers are unique, and the way they receive notifications should reflect that. The Notification Center Module's easy-to-use interface allows administrators to configure emails, text notifications, and letters to best fit the receiver's preferences via customizable templates and triggers. These triggers can be configured based on dollar amount, days, or miles. If you wish to communicate with your receiver in a different language, you have the ability to input the wording of your choosing.
Emails & Texts
Administrators can configure automated emails to monitor their weekly total contracts, instantly notify agents of denied claims so they can inform the dealer as to why, alert reinsurance dealers of high dollar claims before they're approved, and even receive a notification when key dealers have fallen out of their normal submission cadence. Being able to efficiently communicate with agents and dealers during significant events such as these allows for quick completion of business goals and strengthened feelings of reliability.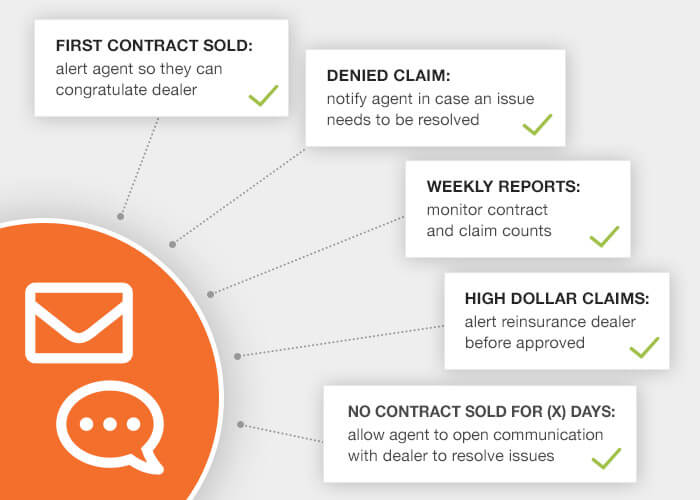 Letters
Physical mail is still a part of an administrator's month-to-month activities, as there are compliance standards in place that require physical letters to be sent to customers. Because of PCMI's integration with BerkOne, the Notification Center Module can automate the letter generation process for events such as a contract or claim status update. As a leader in their field, BerkOne provides an efficient printing and mailing gateway. By consolidating with multiple providers, cheaper postage and handling costs are provided to you – thus reducing your fixed costs overhead.
Copies of your letters will be saved for you in the Contract or Claim Documents tab. Your staff will have immediate access to all correspondents and -more importantly- you'll have documentation of your compliance. In addition, if a customer claims they never received their letter, you are able to send them a copy while speaking with them on the phone – ensuring that it was sent. This module is all about improving communication, reducing friction, and increasing customer loyalty.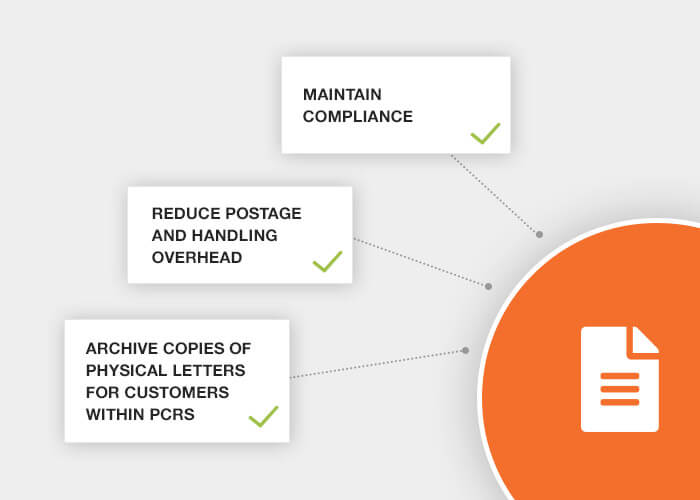 Your Digital Transformation
Digitizing these communication processes is another way that PCMI can help transform your day-to-day, allowing administrators to easily contact the individuals that directly influence business. Allow agents and dealers to thrive with personalized communication methods, either as often or as little as they prefer, and see how the Notification Center Module offers a simple solution with widespread benefits.