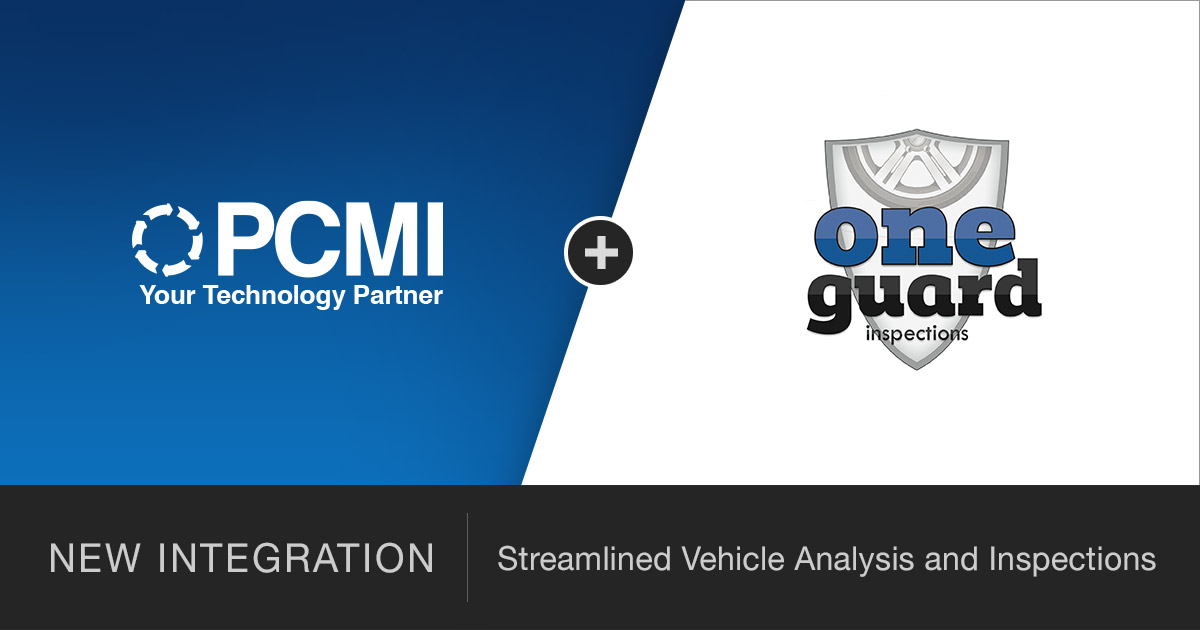 This partnership allows administrators to streamline the claims adjudication and inspection report process within a single portal
October 21, 2021 – Park Ridge, IL – PCMI has partnered with One Guard Inspections, one of the largest and most comprehensive Inspector Networks, to integrate its vehicle analysis and inspection capabilities within PCMI's Policy Claim and Reporting Solutions™ (PCRS) platform, streamlining processes for the Vehicle Service Contract and Third-Party Administrator industries. With the companies integrated technologies, PCRS customers will be able to complete the entire inspection and claims process faster, within one easy-to-use module.
Through this partnership, administrators can streamline the claims adjudication process and provide a reliable, technically accurate vehicle inspection report so that proper contract coverage can be applied as soon as needed. Users will have better control over the claims process allowing more confidence in authorization of repairs.
"This integration has been a complete success for us. It allows our adjusters to issue inspection requests without leaving the PCMI platform, saving a considerable amount of time and increasing our efficiencies."
– Bernie Protzek, Claims Director, C.A.R.S. Protection Plus
"One Guard's reputation for high quality inspections was an important part of establishing this partnership. Our main priority is to provide the highest level of service to our customers with complete digitization and automation of administration processes, and One Guard helps enable that. We've already seen success since deploying this integration and can't wait to see what the future holds."
– Mark Nagelvoort, President & CEO at PCMI
"We have a long-standing reputation for high quality inspections and serving both the warranty and third-party administration industries with a customer first mentality. Putting the customer first is One Guard's mission, and integrating with a company like PCMI just makes sense. This partnership will continue to help our clients expedite and enhance their customer journey."
– Bryan Bledsoe, President, One Guard Inspections
About PCMI
PCMI offers a modular package of software solutions for the administration of F&I Products, Service Contracts, and Extended Warranties. Our SaaS platform, Policy Claim and Reporting Solutions™ (PCRS), supports and automates the full lifecycle of all aftermarket products. Our advanced knowledge of the industry allows us to provide the fastest and most flexible environment for administrators, insurers, OEM's, agents, and dealers to launch new products. Our team of 165+ individuals with a global presence in the U.S., Europe, and Asia enables continuous around-the-clock innovation, customer-focused support, and quick speed to market.
About One Guard Inspections
The most advanced and streamlined inspection process in the industry is just a click away. For more than a decade One Guard Inspections has been America's leading vehicle analysis and inspection provider for the Vehicle Service Contract and Third-Party Administrator industry. One Guard's automated inspection process enhances the claims adjudication process and compliments the customer experience by putting our partner's clients first every time. Partnering with One Guard Inspections is the proven solution to helping expedite and enhance your customer journey. As the only ASE Certified, BBB Accredited and Veteran Owned Business in the industry, get peace of mind knowing your claims administration process won't be compromised. For more information, please visit www.oneguardinspections.com.
Media Contacts