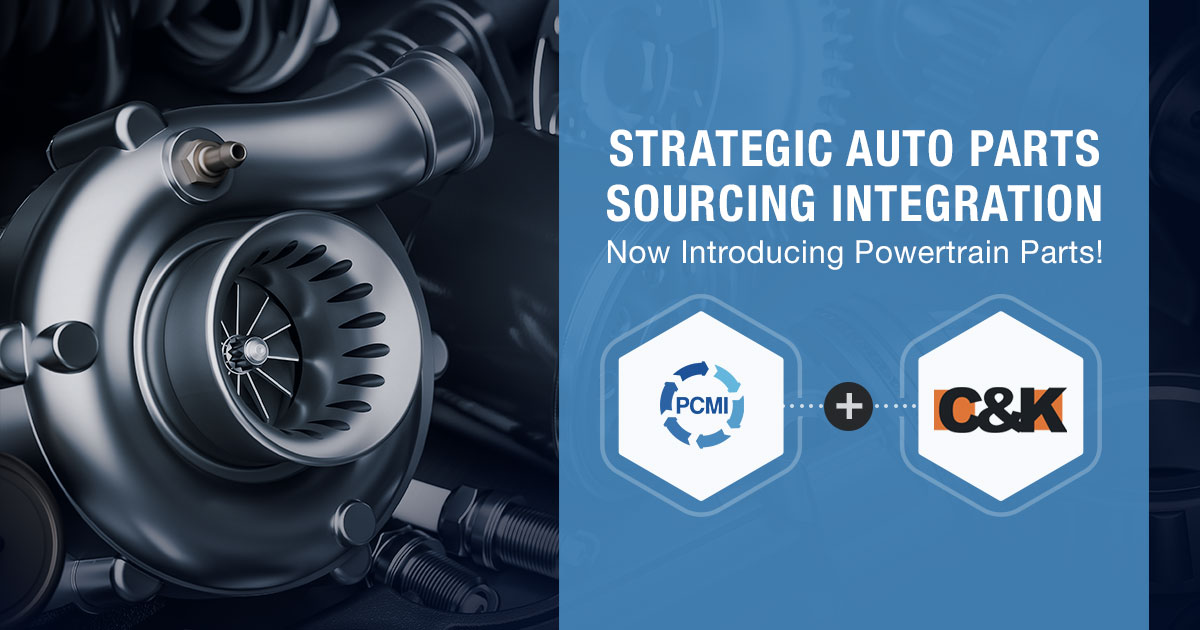 T he parts ordering lifecycle can be tedious and inefficient, which is why PCMI partnered with C&K Auto Parts in 2020 to create a one-stop parts solution for PCRS users. Their combined technologies work to streamline the entire claims process and enable easy parts sourcing all within PCRS to reduce claim costs.
As leaders in the vehicle service contract industry, PCMI and C&K continuously work to expand the capabilities of this integration and are happy to announce the addition of Powertrain Parts sourcing.
Keep reading to learn more about what this partnership provides and how it can benefit you and your team.
About This Integration
As the first (and only) parts ordering integration with PCMI, the reason for this partnership was to help PCRS users expand their business by simplifying all stages of the parts ordering process as well as reduce claim expenses.
See how both companies' technologies work together to deliver the most efficient and profitable parts solution services.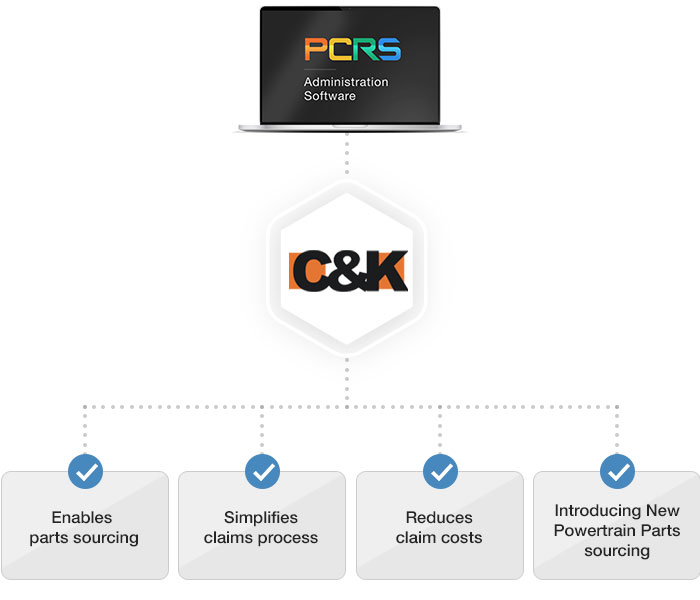 PCMI Provides
By integrating with our administration software, users have access to the PCRS Claims Administration module that enables claim adjusters to instantly verify, order, and pay for parts, which allows dealer participation programs to be more profitable.
In addition, PCRS allows users to source specific parts with just one click, which helps with cost savings and efficiency.
C&K Provides
Through PCRS, C&K – the preferred choice for shipping parts by administrators and leaders in VSC – provides the data, information, and highest-quality parts for users of this integration. Their product line includes remanufactured, recycled, OEM, and aftermarket parts for every make and model of cars and light trucks.
The integration translates a VIN and part type into available part options with price, delivery date estimate, and shipping cost. In the future, users will also be able to select the warranty option.
TPAs can quickly create quotes from C&K to validate that they are getting the best price for parts from a repair facility, which they can then document and save within PCRS.
"Watching this partnership grow has been truly impressive. Now, with the new Powertrain Parts enhancement within PCRS, there are even more opportunities for users of this integration to maximize both value and efficiency."
– Mark Nagelvoort, President & CEO at PCMI
The Old Process
Before this integration existed, the process of parts sourcing and researching was both tedious and time consuming. Claims adjusters would have to exit the PCRS app to use external resources for research, manually enter parts, odometer, and VIN decodes, and customers weren't receiving the value that they deserve.
Thanks to this partnership, PCRS users can now focus efforts on maximizing processes instead of spending countless hours manually going through each step.
"I would definitely recommend this integration to anyone looking to better streamline their claims process. It enables us to source parts in real-time all on one screen instead of accessing multiple external sites, allowing us to better support customers and get them on the road quicker. It's clear both PCMI and C&K are leaders in the VSC world."
– Joe Patrick Brennan, Senior Director, Claims Operations & Field Support at APCO Holdings
C&K Powertrain Parts Sourcing
In case you're not quite sold yet, this integration also includes expanded capabilities of remanufactured and used powertrain parts to the offering, further increasing the value proposition.
So aside from increasing efficiency significantly, users are also guaranteed the best-of-breed products and services to optimize business processes and keep customers satisfied.
Powertrain enhances the current parts integration by enabling administrators to look up remanufactured and recycled engines, transmissions, transfer cases and differential assemblies quickly and easily, which enables users to:
Maximize Productivity
Enables adjusters to research, quote, and order parts without ever having to leave the claims screen.
Capture Savings
Capture savings by validating MSRP, ordering OEM, Aftermarket and Recycled parts all in one place.
Limit Risk
Send in parts from C&K to ensure that only highest quality parts will be used, backed by C&K's stellar warranty, reliability, customer service and reputation for focus on the ESC industry.
"We are very excited about the addition of C&K Powertrain Parts to the integration with PCRS. This latest version will make it even easier and more efficient for our mutual customers to have everything they need to source and price parts while taking the initial claim call."
– Mitch Rand, President at C&K Auto Parts
Say Yes to Optimization
This partnership has brought together two industry leaders with the same shared goal: to simplify processes and maximize value. This integration does exactly that, while providing continuous end-to-end support to users.
If you're not already utilizing this integration, or would like to know more, give us a ring! We're ready to start when you are.
LET'S GET STARTED