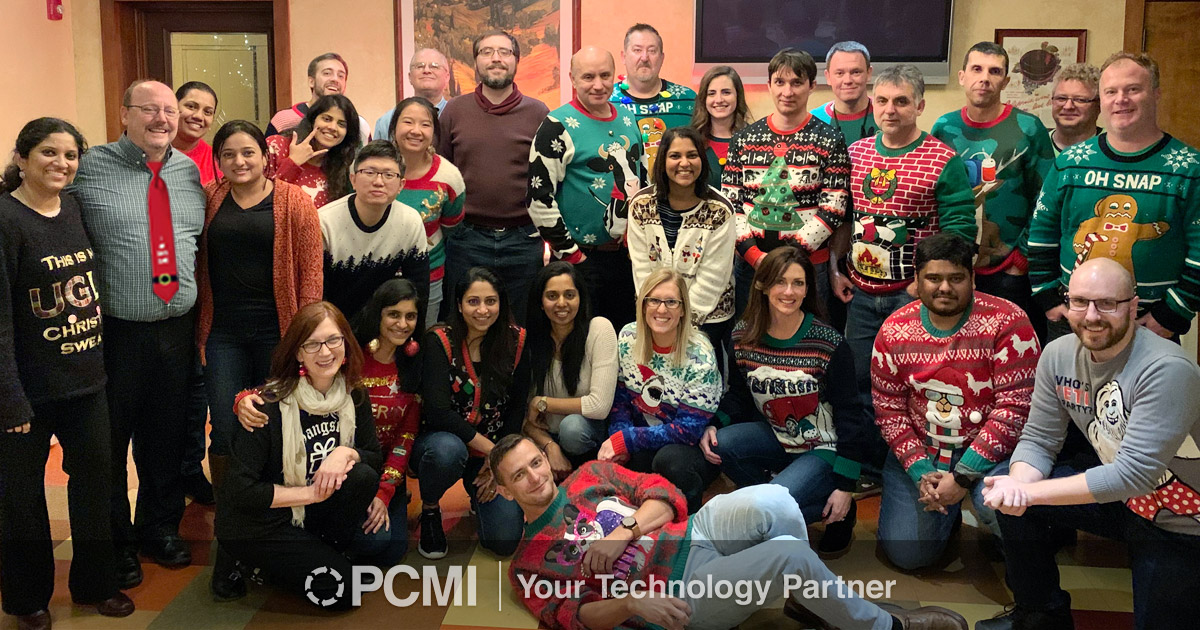 T his holiday season, PCMI's Chicago office once again had an Ugly Sweater Holiday Party, but the festivities started well before the dinner did! The whole team donned their super fun ugly holiday sweaters and came to the office in the morning ready to show them off! There were so many great ones featuring gingerbread men, reindeer, Christmas trees, bells, and much more. We even had a contest for the top three ugly sweaters. Everyone got the chance to take a good look at all the sweaters throughout the office before casting their final vote for the ugliest. The winners would be announced at the dinner!
Hearty Family Style Buffet for Dinner
The office returned to Moretti's for this year's Ugly Sweater Holiday Party, the same restaurant where last year's party was held. We scored a large and spacious room with plenty of space to mingle! When it was time to eat, the scrumptious food was laid out family style, and everyone grabbed a plate and took their pick from the impressive spread! The menu featured calamari, Italian roast beef, fettucine alfredo, and ice cream for dessert! We were also able to grab beer and wine from the bar for the whole length of the party.
And the Ugly Sweater Award Goes to…
After chowing down on the yummy food, it was time to announce the winners of the Ugly Sweater Contest! In third place with a sunglasses-and-scarf-wearing llama sweater, was Yagna Beeram. Second place went to Randy Price, who was wearing a sweater with a poor gingerbread man with a broken leg and the words "OH SNAP," along with a holiday lights necklace. And first place for the best sweater went to Jay Govindaraghavan with a creative Christmas tree themed sweater, complete with garland and ornament earrings!
"It was fun being part of the Ugly Sweater Contest. I took the competition a step further than just the sweater by wearing Christmas tree ornaments as earrings. Though it was a tough competition, I was happy to see how all other participants were cheering for me," said Jay about taking first place in the contest.
Congratulations, Yagna, Randy, and Jay! Each of the winners took home gift cards and sweater-shaped trophies to commemorate their victories!
Secret Santa Gifts Revealed
With our sweater winners crowned, it was time to move to the main event of our festivities (besides eating, of course): Secret Santa! A few weeks beforehand, everyone drew a coworker's name out of a hat and he or she had to buy that person a present but could not tell them. Everyone managed to keep quiet about their person and gift until the night of the dinner. President & CEO Mark Nagelvoort kicked off the gift-giving, and in PCMI tradition, wore a Santa hat as he gave his present to who he had previously picked. That person then wore the Santa hat, opened their gift, and the routine continued until each of our employees had opened their secret gifts. The gifts ranged from classics like chocolates, wine, and gift cards, to funny and unique presents, like a cheese printer and scratch-off map! Everyone had a blast giving and receiving the many gifts.
The holiday dinner was a fantastic, festive time to celebrate for all that was done this year! The food was delicious, the sweaters were ugly, and the time spent together as a team was as warm and delightful as a hot cup of cocoa.
Get to Know Us