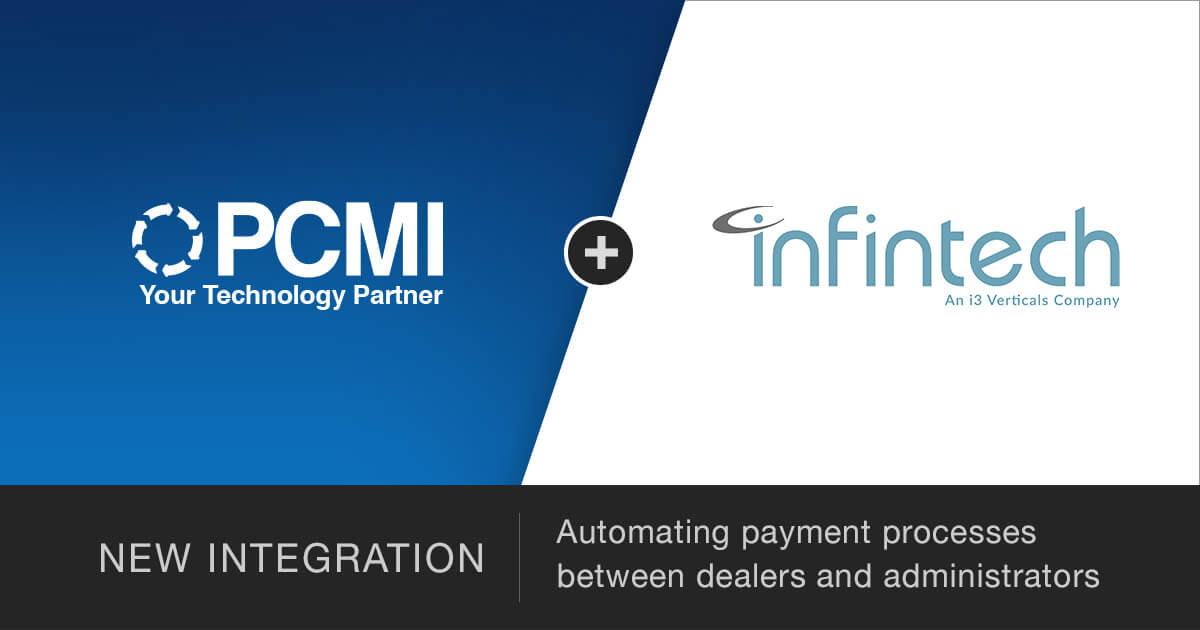 This partnership enhances the payment process between dealers and administrators by integrating Infintech's efficient gateway within PCRS administration software.
Park Ridge, Illinois – October 27, 2020 – PCMI has partnered with Infintech to integrate its payment gateway solution within PCMI's Policy Claim and Reporting Solutions™ (PCRS) platform, streamlining payment processing between dealers and administrators. Users can expect additional payment functionality within PCRS, such as enabling ACH for dealers to submit bills and a gateway where they can monitor transactions.
Through this partnership, PCRS administrators have the capability to support both ACH and integrated credit cards from dealers. As these transactions are immediate, the PCRS Agent portal provides updated online status of payments and commission information, simplifying month-end process.
"We look forward to helping PCMI and their customers attain a seamless integration solution, backed by industry experts and a dedicated customer support team. As a credible processor of credit card and ACH transactions, Infintech wants nothing more than to enable merchants to accept payments that keeps their business thriving today and in the future."
— Matt Valego, Vice President of Regional Sales, Infintech
Mark Nagelvoort, President & CEO of PCMI, said, "PCMI is dedicated to digital automation – which includes making it easier for dealers to pay their funds electronically. Our new partnership simplifies the process for both the dealer and the administrator, further reducing costs."
About Infintech
Infintech, an i3 Verticals company, is committed to payment processing excellence and customer satisfaction backed by a management team with more than 40 years' experience in the payments industry. Specializing in B2B transactions, Infintech focuses on qualifying companies for Level 3 savings which positively impacts the bottom line. Additional payment processing solutions include mobile and online processing, accounting and ERP software integration, and electronic invoicing.
For more information, please visit infintechllc.com or contact Vice President of Regional Sales of Infintech, Matt Valego, at matt.valego@infintechllc.com or (270) 683-3475.
About PCMI Corporation
PCMI Corporation offers a modular package of software solutions for the administration of F&I Products, Service Contracts, and Extended Warranties. Our cloud-based platform, Policy Claim and Reporting Solutions™ (PCRS), supports and automates the full lifecycle of all aftermarket products.
Our advanced knowledge of the industry allows us to provide the fastest and most flexible environment for administrators, insurers, OEM's, agents, and dealers to launch new products. Our team of 140+ individuals with a global presence in the U.S., Europe, and Asia enables continuous around-the-clock innovation, customer-focused support, and quick speed to market.
Please contact PCMI for more information or contact Mark Nagelvoort—President & CEO at mark.nagelvoort@pcmicorp.com or (847) 653-6916.
VIEW OUR INTEGRATION PARTNERS