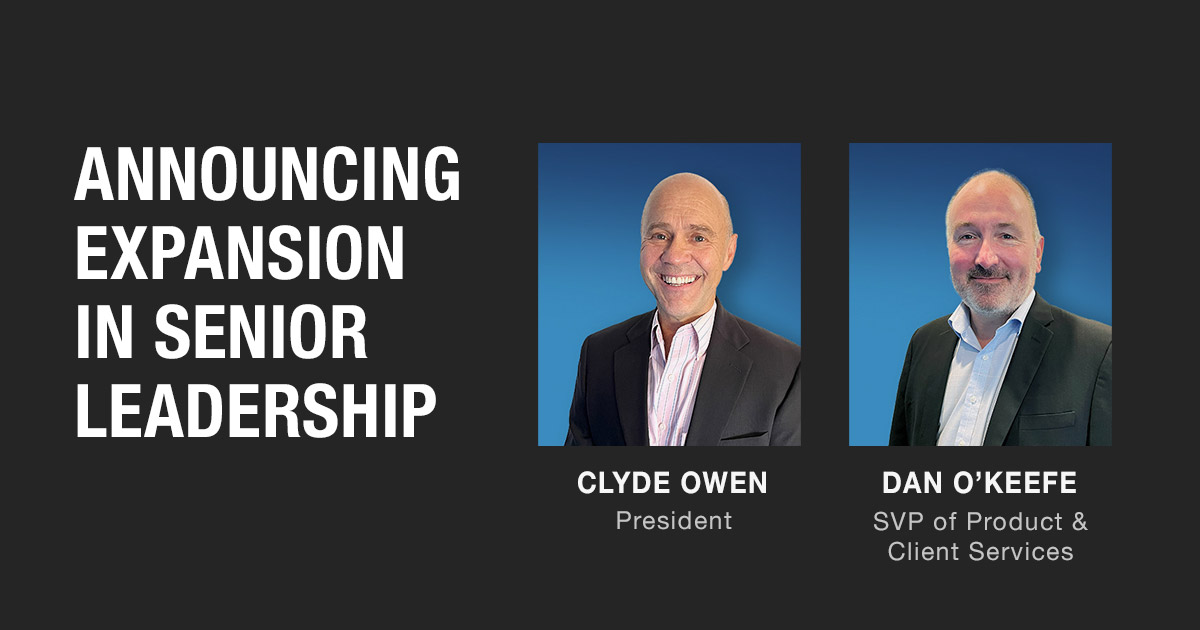 New Leadership Hires Bring Extensive Experience and Knowledge to PCMI
Park Ridge, IL – PCMI (Policy Claims Management International), a leading provider of administration software for the warranty and service management markets today announced the addition of two new leadership hires. Joining the team are Clyde Owen as President and Dan O'Keefe as Senior Vice President of Product & Client Services. As the latest additions to PCMI's leadership team, both will be pivotal in leading the company's growth, innovation, and client success initiatives.
Clyde Owen, President: Clyde brings over two decades of experience in insurance technology, starting his career in 1996 when he founded Insurity Solutions. Insurity initially provided internet-based rating and underwriting systems until it was acquired by ChoicePoint. Clyde continued to help lead and grow Insurity for more than twenty years with leadership responsibility for product, sales, strategy and other customer-centric functions over this time. Clyde's most recent role was with ClarionDoor, a leading provider of Rating and Issuance solutions for the Insurance Industry which was successfully sold to Zywave. As PCMI's President, Clyde will assume responsibility for the day-to-day management of the company and will partner with founder and CEO Mark Nagelvoort on strategic growth initiatives.
Dan O'Keefe, Senior Vice President of Product & Client Services: Dan joins PCMI from Amadeus, an industry leader in technology for travel and hospitality, where he was General Manager for several software lines of business. Prior to Amadeus, Dan spent twenty years in a combination of Senior Professional Services, Support, and Product Management roles. Dan will leverage his deep product and strategy expertise and development acumen to ensure PCMI's market leading products meet the current and future needs of clients. In addition, Dan will oversee PCMI's professional services and support organizations. Dan's extensive knowledge in these areas will aid in the connection of sales, implementation, product, and customer service to create a uniform experience that will provide greater value for PCMI clients.
"As we continue to rapidly grow and scale our business, we are thrilled to welcome two additional leaders with such extensive knowledge and experience to PCMI's leadership team. Clyde and Dan bring unique talent that will benefit our team, clients, and products. I'm looking forward to working with them as we continue to build PCMI and expand our offering of high value software solutions to our clients and partners."
– Mark Nagelvoort, CEO of PCMI
About PCMI
PCMI offers a modular package of software solutions for the administration of Finance & Insurance Products, Service Contracts, and Extended Warranties. Our SaaS platform, Policy Claim and Reporting Solutions™ (PCRS), supports and automates the full lifecycle of these products with a full suite of core solutions that includes policy and claims management, billing and financials, reinsurance, risk management and more.
PCMI's advanced knowledge of the industry allows the company to provide the fastest and most flexible environment for administrators, insurers, OEM's, agents, and dealers to launch new F&I products. PCMI's team of 180+ individuals with a global presence in the U.S., Europe, and Asia enables continuous around-the-clock innovation, customer-focused support, and quick speed to market.
Please fill out the form on our contact page for more information or contact Laura Scahill – Marketing Manager at laura.scahill@pcmicorp.com or (847) 653-6916.