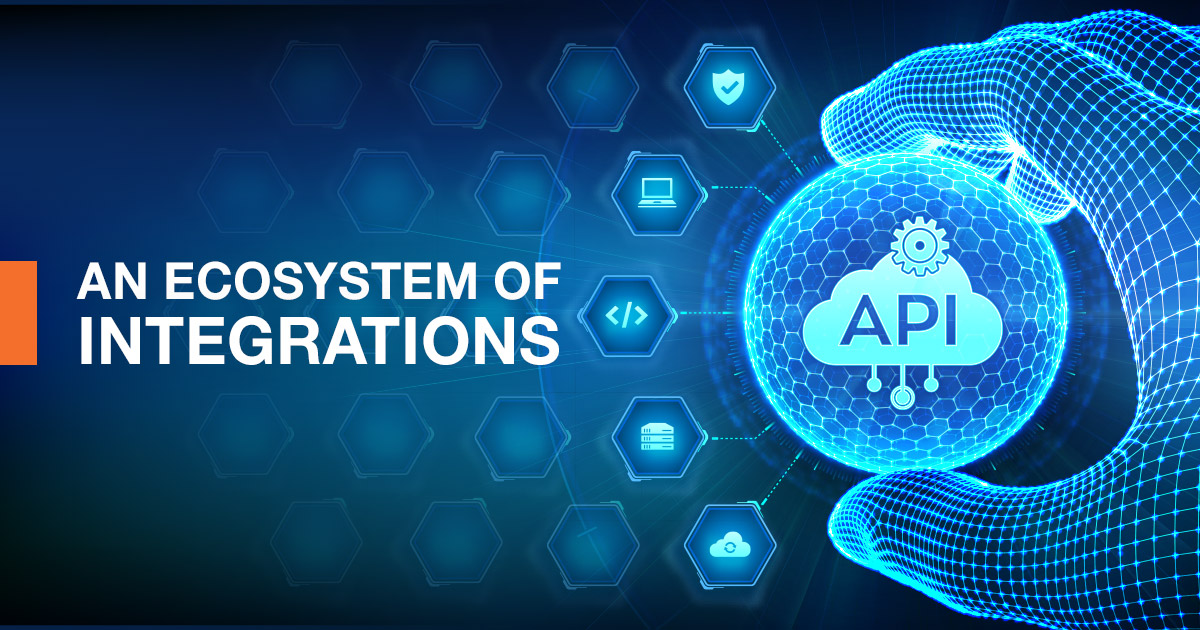 O ur PCRS administration software maximizes your warranty administration process through the power of integrations. With over 140+ strategic connections available, our software integrates to all the systems you need to get the job done, providing you with one centralized interface.
Consisting of API connections like VIN decoding and menus, having a completely customized system for your business is entirely possible. Learn more about PCRS integrations, their benefits, and how to utilize them by reading below.
Who Can Benefit?
With so many integrations to choose from, our PCRS system caters to a wide range of industries made possible with our third-party integration partners.
Below are a few industries within F&I and consumer that utilize PCRS and our ecosystem to maximize the technology to fit their business.
Aside from being compatible to many different types of businesses, we're partnered with the most advanced and modern API connections so that our customers don't feel held back by their system.
"Since PCRS is already integrated with so many menus, it eliminated a lot of stress for us. We gained those capabilities without doing development work to integrate with all the sales tools dealerships needed to use."
– Matt Fehr, President of AvantaGuard
Ecosystem of Connections
PCRS integrations connect TPAs, dealers, OEMs, and third-party partners to provide real-time data and value-driven insights within a single platform to streamline processes and simplify tasks. This allows you to drive the customer experience, syndicate data, and automate administration.
"Within PCRS we've created a unique ecosystem where users are able to take advantage of multiple integrations allowing them to stay focused on their work within a single portal."
– Greg Kasprzycki, Vice President of Solutions at PCMI
Creating a Network
The goal of PCRS integrations is to work together and maximize the functionality of each system. Because of this, our team only partners with the best of the best to ensure the success of our clients. Take a look below at some of our most common integrations and what they do.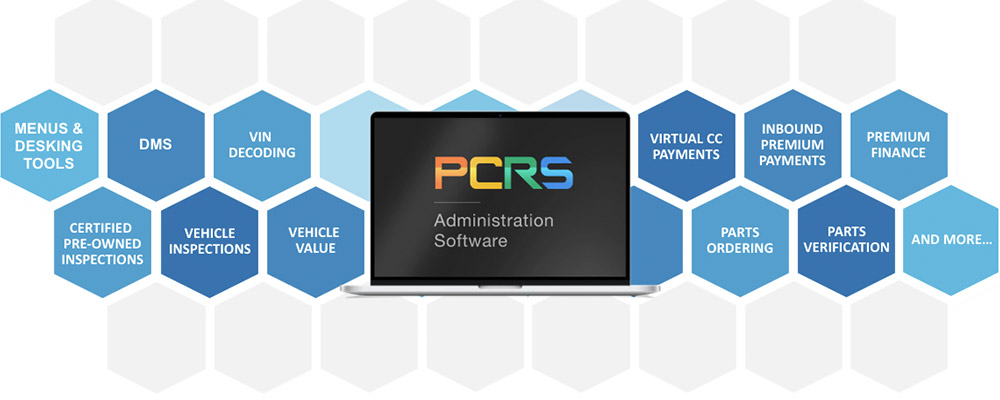 Menus & Desking Tools
Tools used to streamline the sales process and capture additional revenue at dealerships.
DMS
Or Dealer Management System is a software platform dealers use to manage their vehicle inventory for deals, customer information, credit reports and printing paperwork.
VIN Decoding
Allows for dealers and related systems to decode VIN numbers registered to a vehicle to discover information about a particular type of vehicle.
Virtual CC Payments
These companies provide the option of payment processing and information management services to companies that use their services and integrations.
Inbound Premium Payments
Allows for dealers to accept all forms of transactions including credit cards, debit cards, and ACH.
Premium Financing
These companies offer consumers the ability to fully fund and finance protection plans for their vehicles, allowing dealers to sell more product without having to worry about payment.
Certified Pre-Owned Inspections
Run checks on pre-owned vehicles to give consumers additional reassurance that a CPO vehicle is in excellent working condition. Dealers can verify claims about a vehicle to ensure it's up to standard.
Vehicle Inspections
Provides dealers with the ability to control inspection costs for customers. These companies provide verification of mechanical and engine component failures for vehicle service contract and warranty claims.
Vehicle Value
Offers dealers the ability to accurately determine a vehicles value via APIs.
Parts Ordering
Streamline the process of providing high-quality parts on a timely basis to extended warranty companies and dealer groups.
Parts Verification
Used by dealerships to determine the reasonability of repair costs.
Title Verification
Provide reporting information to dealerships and consumers about a vehicle's history.
Call Center Software
Provides dealers with Customer Relationship Management software, assisting with company marketing efforts and tracking campaign data.
Administration Cross Integration
These companies grant access from different automotive software platforms to platforms created by a competing company.
Online Car and F&I Purchasing
An online marketplace selling vehicle warranties outside of the dealership space. The integration allows for these products to be listed.
Interested in learning more about PCMI's API connections? Schedule some time with the team to see how we can be your technology partner!