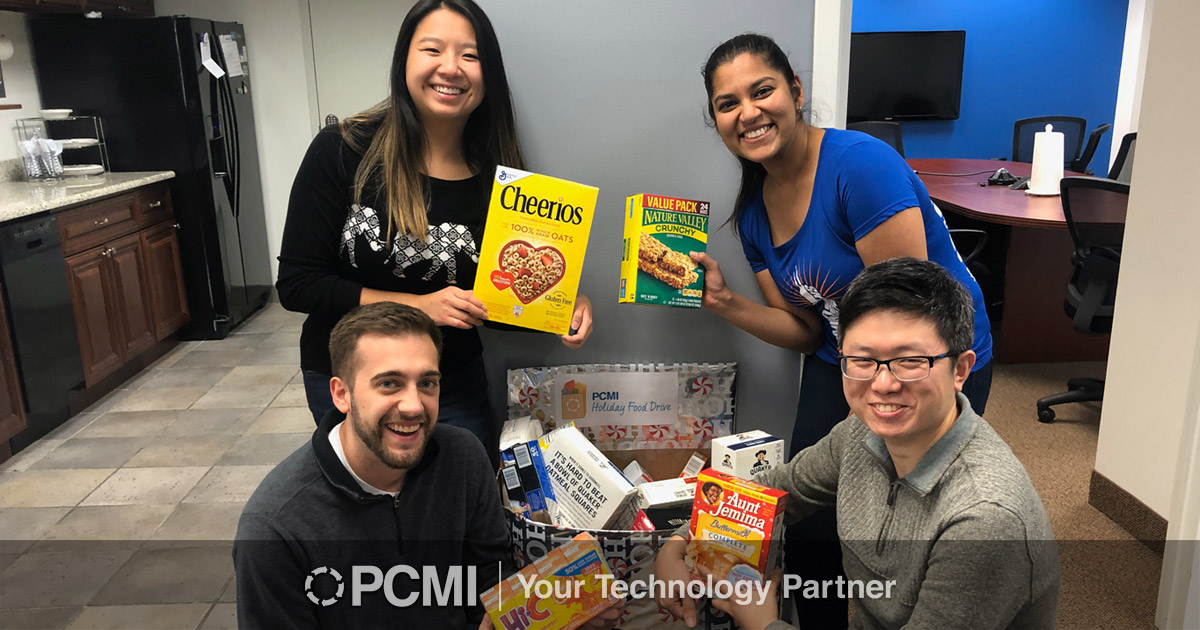 M ore than 820 million people in the world go hungry each year, 37 million in the US, 1.4 million in Illinois, and 800k in Cook County. In our modern world, it's sometimes easy to forget that there are people right around the corner who may not have enough to eat, yet the struggle with not knowing where the next meal will come from is a daily crisis for many in our very own community. PCMI has been blessed with a thriving business, so we have a great desire to give back. This holiday season, we continued our tradition of hosting a food drive to help feed the hungry and donate to those in need, with the hope of making their holiday season a little brighter.
The Season of Giving
At PCMI, we have many fun office events focused around food, from our recent Thanksgiving Potluck to our monthly Foodie Friday. We love when we get a chance to have a feast for our team, and every year, we look forward to extending this spirit of giving by coming together to make a positive impact in our community. So, for the fifth year, a big box in festive wrapping was set up by our kitchen, and employees were encouraged to drop off food donations for most of the month of November. Nonperishable food items were what we requested most, such as mac and cheese, Bisquick, canned foods, crackers, and cereal. Useful non-food items were also very much appreciated, such as cleaning supplies, paper products, and personal hygiene items like shampoo and toothpaste. Employees brought in supplies all month long, filling the box up to the top.
Supporting Local Needs
For the past five years, PCMI has been supporting the Maine Township Emergency Food Pantry, which is dear to our hearts because it's an organization that serves our local community—Park Ridge (where our headquarters is located) along five other neighboring cities: Morton Grove, Niles, Glenview, Des Plaines and Rosemont.
Every month, the Food Pantry packs 150 boxes of food which go to feed over 300 individuals. In addition to businesses like PCMI, schools, churches, and scout programs also donate to help keep the Food Pantry stocked year-round. The Maine Township not only offers food to those in need, it also provides many other services, such as emotional support groups, youth mentoring, and counseling for those struggling with issues like anxiety and sobriety.
PCMI was privileged to once again be a part of the Maine Township Food Drive. A big thank you to everyone who donated to the cause. We took our full box of food and supplies off to the drop-off center last week, right in time for Thanksgiving. Our wish is that everyone will be able to have a wonderful holiday season, with more than enough food and good times to go around.
Get to Know Us