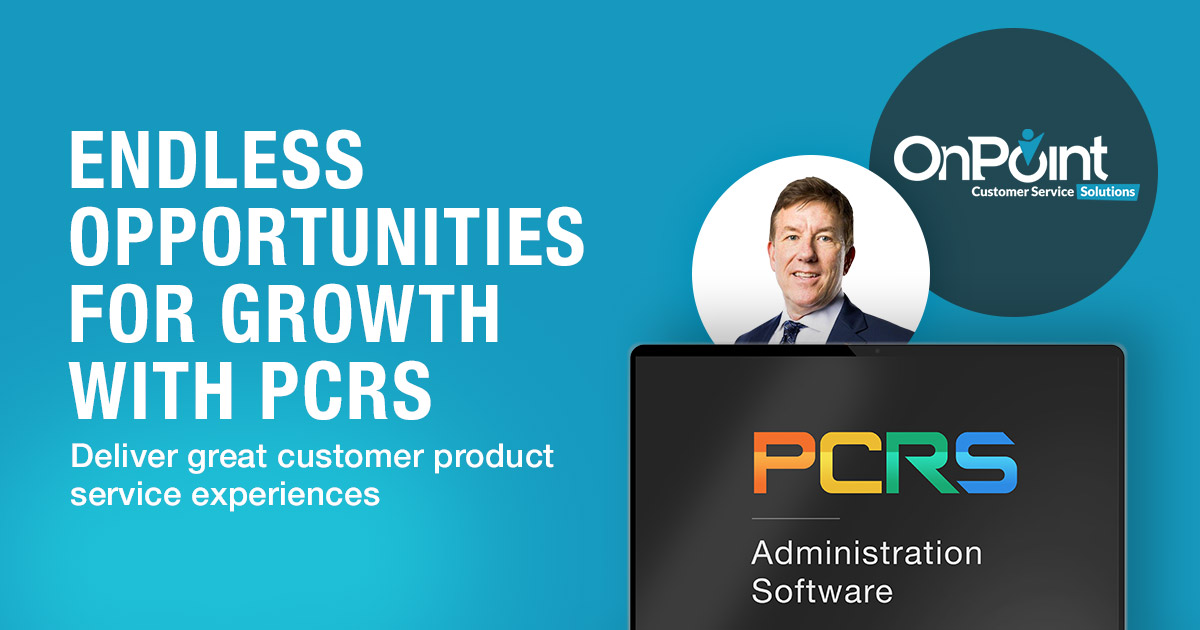 T hose within the consumer warranty industry are tasked with ensuring a certain level of customer service is achieved as well as the continued value of each and every customer relationship.
In order to learn more about the tools it takes to achieve this, PCMI teamed up with President & Chief Risk Officer of OnPoint Warranty Solutions – Rob Christian, to discuss his team's experience using PCRS software as their consumer warranty administration provider.
Throughout the on-demand webinar, both Mark and Rob cover industry-specific functionalities that were designed to support the administration of consumer warranty as well as the solutions that have helped automate OnPoint's processes.
Learn more about how OnPoint found consumer warranty success through PCRS.
What functionalities should administration software provide?
No matter what market you work for, there are specific functionalities your administration software should provide to successfully automate the warranty lifecycle and satisfy customers.
Below are the key features to look out for when searching for the best provider.
Policy Administration
Claims/SO Administration
Service Network Dispatch
Risk Management
Connected Platform
Analytics and Reporting
These features ensure the complete automation of administration and provide the opportunity to grow and scale within each individual platform.
"Thanks to their feature sets, we were able to support our business processes across our customers, and truly focus on delivering great customer product service experiences."
– Rob Christian, President & Chief Risk Officer, OnPoint Warranty Solutions
Warranty and Service Solutions for Administration Software
When focusing on the customer experience, you have to leverage the right tools to connect and optimize every part of the service lifecycle.
As an Insurtech and Warranty Service Solution provider, OnPoint requires industry specific functionality and a comprehensive platform where all interactions can be monitored and built upon to streamline the customer experience and maximize value.
Take a look below to see how PCRS has enabled the OnPoint team to achieve value-driven customer relationships.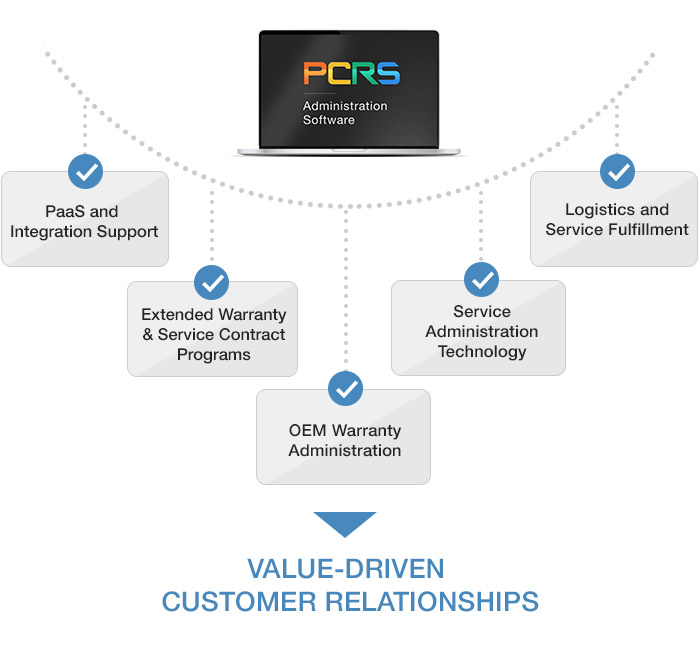 PaaS and Integration Support
Platform as a Service, or PaaS, is a complete development and deployment environment in the cloud with resources to enable you to deliver everything from simple cloud-based apps to sophisticated cloud-enabled enterprise applications.
PCMI provides both SaaS as well as PaaS, PaaS gaining a lot more interest from customers recently due to the ability to customize and expand upon individual platforms.
Extended Warranty & Service Contract Programs
API connectivity within administration software provides users with the ability to integrate with outside vendors to optimize processes in a customizable way. For extended warranty and service contract programs, API connections can help with tech support, direct sales, insurance and compliance, and much more.
OEM Warranty Administration
Some manufacturers like to insure their manufacturer's warranty to minimize the financial risk. OnPoint enables OEM warranty administration through PCRS by providing the below:
Insurance and compliance
Product registration
Customer service & service fulfillment
Claims processing
Service Administration Technology
Consumer direct, service personnel, and service operations functionality are all capabilities PCRS technology provides OnPoint to allow their team to expand their market to partners and increase sales and improve the customer experience.
Logistics and Service Fulfillment
PCRS supports the manufacturer by handling operations such as warehousing and failure testing as well as service fulfillment management in order to complete OnPoint's solution portfolio that's focused on optimizing the customer experience.
What made OnPoint choose PCRS?
Rob Christian and his team at OnPoint have been loyal customers to PCMI – but PCRS wasn't the first software they worked with to support the company's processes.
From ease of use to limitless opportunities, see why the OnPoint team continues to utilize PCRS as their administration software for their consumer warranty needs.
Industry specific functionality
Extensive SKU, contract management, and LOL capabilities
Flexible/easy to use
Highly customizable using your own staff
Rich in contract and product warranty coverage management
API-rich environment
High levels of customer support
Highly responsive staff to unique challenges and opportunities
Truly partners in every sense
Interested in learning more about how PCRS supports consumer warranty administration?
Watch the Full On-Demand Webinar Now