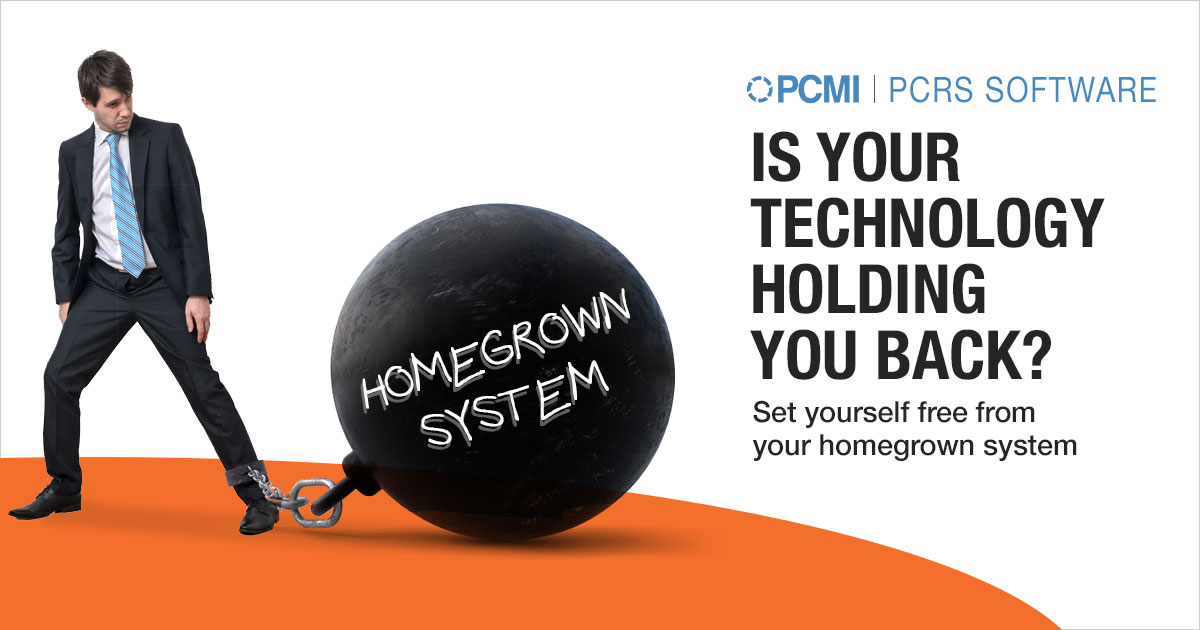 C omplete digitization and intuitive technology have become increasingly necessary attributes to successful businesses over recent years. Because of this, old technology such as homegrown systems no longer have a place in our rapidly evolving society with increasingly high expectations in regards to how consumers are serviced.
Administration software, especially within the extended warranty and service contract industries, was built to adapt to current consumer and business trends, whereas homegrown systems were meant to conform to the business that built them.
Although homegrown technology has been an excellent way to customize processes and cut costs in the past, it no longer holds weight in the increasingly evolving market operated by advanced technology.
Keep reading for an in-depth breakdown of homegrown systems compared to third-party technology within the F&I and Consumer Warranty industries.
What is a homegrown system?
Homegrown systems are typically custom-tailored software designed internally by an IT team to complete business processes and objectives.
These systems were probably the best possible solution at the time they launched but have since been lagging in capabilities and often times can't keep up in our rapidly evolving society.
With more and more advanced technology solutions popping up in order to accommodate new business needs and processes, it's time to evaluate homegrown systems and what place they hold in our world today.
Why are more people moving away from homegrown?
Homegrown systems may seem confusing to those that never used them, but to businesses that started off building their own technology, there's a level of comfort knowing exactly what their system can provide them as well as their customers.
With the increasing diversity in technology, weighing the pros and cons of a homegrown system is important to assessing how it can continuously benefit you and your team in the coming years. Below is a list of reasons certain businesses have decided to switch from their homegrown to a third-party software system.
Risky
Outdated
Limited tools and functionality
Lack of integration
Time-consuming
Growing pains
Poor user experience
On-staff programmers leave
Governance, audits, and compliance
If any of these speak to your team's experience with your homegrown system, it might be time to look into a software company that can cater to new business-related needs.
Below we will go into depth about administration technology and the trends that are paving the way for administration software.
What trends are leading to the replacement of homegrown systems?
With artificial intelligence and the Internet of Things making waves in homes, cars, businesses, etc., there's no possible way a simple homegrown system can keep up with the level of advancement that these newer technology trends have to offer.
Companies that specialize in building scalable and innovative administration software that automates all processes within the extended warranty lifecycle are becoming increasingly more attractive, regardless of the level of attachment some companies have to their homegrown technology.
Below are top ten automotive industry trends for 2022 according to startus-insights.com:
Connectivity
Autonomous vehicles
Electrification
Big data and data analytics
Shared mobility
Human machine interface
Blockchain
AI
IoT
3D printing
Homegrown systems weren't created to accommodate these new technology trends, and subsequently IT teams spend way more time, money, and effort trying to update their system to keep consumers happy and their business running.
Not to mention, new and advanced technology trends are going to continue to pop up at an increasing level, so now might be the perfect time to reconsider.
The technology that will replace homegrown systems
As you can see, with the advancement of consumer demands comes the overwhelming necessity to find the technology that can cater to them – that is, if you want to stand a competitive chance.
With that being said, the rise of administration software is becoming the replacement for old, warn out systems that never intended to support such dynamic features.
One administration software that can support the advancement of F&I and consumer market products is PCRS - Policy Claims and Reporting Solutions™.
PCMI's cloud-based solution offers a flexible package for the administration of F&I Products, Service Contracts, and Extended Warranties. PCRS features countless modules including Open Sales Platform, F&I Reporting, Policy Administration, and Risk Management all completely customizable to meet your company's unique needs.
From industry experts, below are technology trends for automating administration that are becoming necessary within admin systems.
Consumer claims
Notification center
Integrated payment gateways
BI engine
Parts shipping
Managing an extended warranty program
Global warranty administration
Warranty to extended warranty
Dealer digital links
Off-site claims management
Not only are these features and capabilities a must for successful businesses within F&I and Consumer Warranty industries, the ability to evolve as well as anticipate the needs of consumers makes the real difference between third party service providers and homegrown systems.
The first step is evaluating the extent your system can achieve any of the above, and consider the future of your homegrown system.
Consensus
Although homegrown systems within the F&I and Consumer Warranty industries can be comfortable and low cost, at the end of the day they don't stand a chance against third party software designed to help users grow and scale.
To appeal to consumers – and stay afloat during the age of digitization – investing in a software provider that can accommodate your needs and transfer all of your data can be the easiest way to increase business in this highly competitive market.
Set yourself free and learn more about our PCRS Administration Software.
LEARN MORE